Tend to the people, and they will tend to the business." –John Maxwell
A recent study by Gallup revealed that all employees appreciate some form of feedback from their superiors. However, millennials might need even more feedback than other generations in the workplace due to their upbringing. But surprisingly, only 19% of millennials get feedback regularly. An even smaller percentage (17%) viewed the feedback they receive as meaningful.
The study also established that frequent interaction, at least once per week, improve employee engagement. Even so, only 18% of non-millennials and 21% of millennials meet their leaders every week. 53% of non-millennials and 56% of millennials say they meet their managers as rarely as less than one time each month.
If these findings are anything to go by, then there's a lot that managers need to do to connect with their teams. This doesn't have to be as exhausting as many would want to believe; a simple email, text, call or a quick drop by an employee's office or desk can mean the difference. Daily conversations don't have to be long; just a few minutes are enough for an informal, but continuous communication.
So, how can managers deliver continuous feedback and development that motivates employees to pursue growth proactively?
The answer is to come up with personalized, yet scalable learning ideas that reflect on how employees learn. By creating individualized learning proposition for all employees, managers will be able to ascertain that the learning will resonate with them, and help them perform better. Here are four ways managers can support employee development in the workplace.

Measure performance
Much emphasis should go on the process, rather than the outcome. Although outcomes need to be tracked and measured, what's critical is how well an individual performs to get the results.
Measuring the performance metric is a great starting point because it helps to inform the managers how well an employee is performing on their job. In addition to revealing the truth about performance, metrics also uncover any issues that could otherwise go unnoticed.
With performance metrics, managers can easily identify each individual's strengths and weaknesses and use that information to help improve the company's bottom line. For instance, if a salesperson is not converting leads as expected, managers can use the metrics to assess their strategies and identify where they failed to convert, and deploy plans to help improve mission effectiveness.
Performance metrics show managers where an individual is thriving and struggling and the kinds of behavioral changes will be most effective. They can then set regular schedules with every worker so continuous assessments are available, to keep everything on track.
Offer personalized feedback
Contrary to what many people believe, employees want to know how well they are performing, and areas that they need to improve on. Since evaluation is a significant part of continuous assessment and development, management should save time to provide praise and constructive criticism, formally and informally. Continuous and personalized feedback helps employees know their position and makes them more engaged.
A survey conducted by Saratoga Institute showed that 89% of managers believe workers are in it for the money. On the contrary, the survey revealed that 88% of employees are in it for other reasons than money.
Mercer Human Resource Consulting performed yet another survey in Australia and concluded that most employees valued training, the existence of opportunities for growth and a defined career path. It was also crucial for workers to be proud of where they worked and for them to have their achievements recognized by the management.
Managers should also offer the latest training and opportunities to take part in new innovative projects to help keep high performers inspired and productive.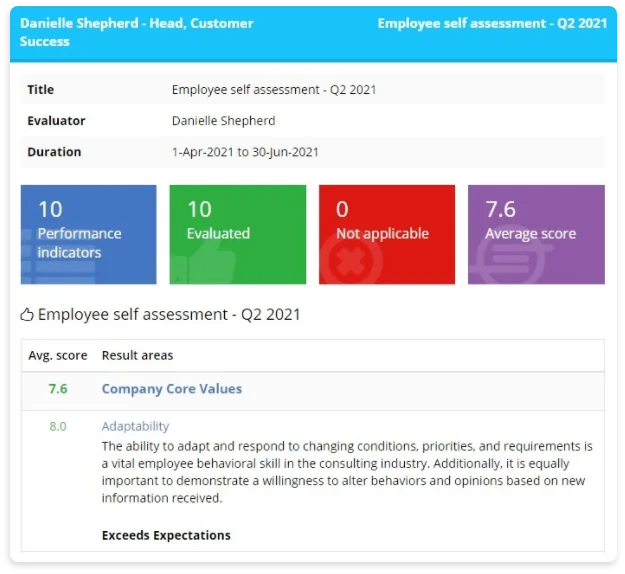 Articulate expectations clearly
Employees feel frustrated when they have no idea how to get ahead or they don't know how to build themselves for the future. It's therefore essential for managers to be clear about what they expect regarding future performance at different levels. This way, employees can self-assess to see whether they have what it takes to get to the next level in the company.
Create developmental experience
70% of employee learning comes from their job developmental experience, 20% from peers, and 10% from reading books and taking courses. Managers should understand their role in helping employees with their career goals and in designing development opportunities that assist them to attain their goals.
So instead of asking employees to do what they already know how to do, managers can think about special roles and assignments to help their teams to continuously learn and grow.
Conclusion
For some time now, corporations have encouraged their workers to be self-reliant in terms of their careers. They've been asking employees to "be in control" of their own careers and not depend on the company to offer guidance. While this has worked to a certain extent, the shifting dynamics of the workplace needs greater collaboration; meaning organizations have to facilitate the process by offering opportunity and clarity.