Smart employers understand that hiring individuals who are qualified for the position must also be the right fit for the company as well. Employing the right talent helps to ensure the overall success of the company, but not everyone recognizes that hiring said employee is just the beginning.
In a time where employee burnout is increasing at alarming rates, getting employee feedback and monitoring employee sentiment is more important than ever. Improving employee engagement is more important now than it has ever been to ensure staff retention and to maintain superior levels of customer and client satisfaction.
No matter the size of your organization, employee engagement can be difficult. Many larger enterprises have human resource systems in place for gathering and monitoring employee feedback. While this is a good step in the right direction, sitting on all of the feedback you receive from employee surveys, without action, results in companies losing the perfect opportunity to improve employee happiness and engagement.
Research shows that employees who feel more connected to their jobs go the extra mile to provide great customer care and satisfaction. Engaged employees have the motivation to go above and beyond what is required of them, which benefits the organization as a whole.
What is employee sentiment analysis?
While gathering employee feedback is a vital step in increasing employee engagement, analyzing how your employees feel also plays a major role in performance management. Unaddressed grievances, even those that are minor, can lead to low productivity and bring the morale of the whole team down. Understanding the feelings of the team that works for you helps build a company culture that encourages better performance.
Language is how we express ourselves daily, in both our personal and professional lives. It's how we communicate our thoughts, feelings, and ideas with our family, friends, and coworkers. There's a huge value for companies who gather this data to learn and better understand what's really going on beneath the surface. The process of mining data for these insights is called employee sentiment analysis.
The concept behind employee sentiment analysis is fairly simple. Large amounts of unstructured texts are gathered and analyzed from surveys, emails, conversations and other types of text-based qualitative inputs to categorize the data by attitude, or sentiment. This analysis is performed by a combination of blending natural language processing with machine learning. Machine learning is also used to teach the system which words and phrases to look for that might signify issues employees are having.
Why do you need employee sentiment analysis?
To say the past few years have been mentally taxing would be quite an understatement. The number of adults who have reported feeling symptoms of depression and anxiety increased from 11% to 40% from June 2019 to January of 2021. One of the most notable insights gained from these responses is the vital part employers play in the health and well-being of their employees.
This should come as no surprise to anyone paying attention to the human resources sector. Even before the Covid pandemic, the demand was growing for employers to make their employees feel valued, to prioritize mental health, and to provide a positive, fulfilling culture in the workplace. It's been known for some time that employers who show commitment to the well-being of their employees have a much more positive effect on both productivity and retention within the organization.
How do you better equip your business to manage the voice of your employees? The simple answer is to listen – listen to the voice of your employees in all its forms. To truly provide an engaging employee experience requires more than just putting your employees first. You need a plan of action to actively gauge employee sentiment. Doing so allows you to address potential problems before they become major issues, and prevents the extremely high cost of employee disengagement.
AssessTEAM Employee Sentiment Analysis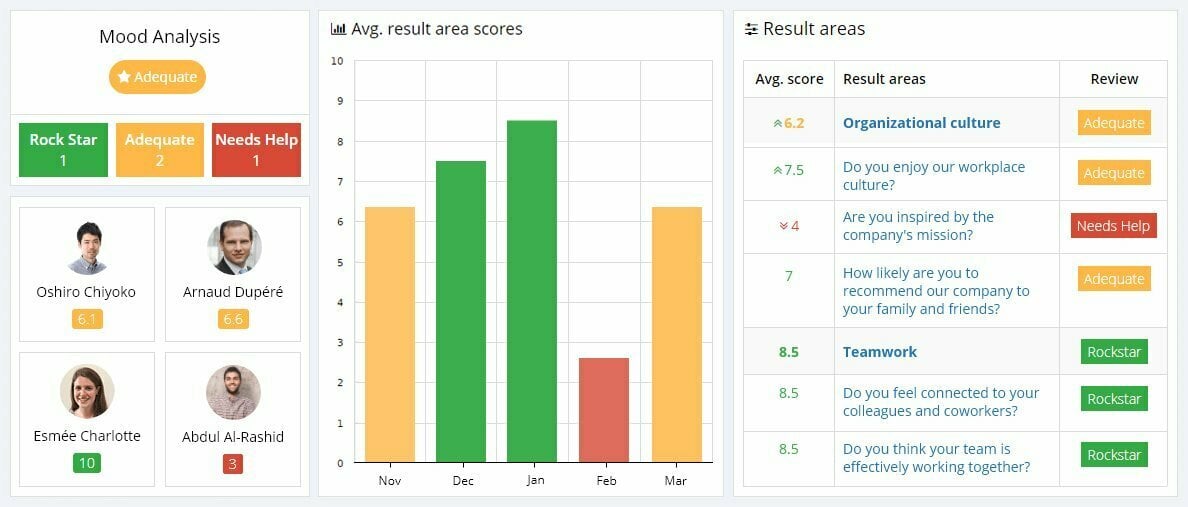 In the past, many HR departments have used annual surveys to gauge employee sentiment. Unfortunately, people won't always tell you what they think, or provide honest answers, when tasked with these mandatory surveys. Not only that, the idea of only conducting yearly evaluations has become antiquated, and only shows a snapshot of how your employees think and feel. You aren't seeing the day-to-day picture.
You aren't seeing why your development team is frustrated by leadership decisions. You aren't seeing why Todd in sales is missing his targets because of personal problems at home. You aren't seeing the events that led Lora in marketing to quit last month. True team engagement can only be achieved with employee sentiment analysis.
While annual surveys are a good first step, they simply aren't enough in today's modern work environment. You need to do more to encourage employee engagement than only listening to your employees once a year.
Knowing how your team "feels" about working for you can help build an environment that encourages better performance. Utilizing AssessTEAM's employee sentiment analysis KPIs helps team managers find cultural issues, biases, misconceptions, and other problems that have a simple solution when discussed in a one-on-one meeting. Team managers find mood surveys quite useful in understanding the voice of their employees.
Do you enjoy our workplace culture?
Do you feel you have all the resources you need to do your job successfully?
Do you feel connected to your colleagues and coworkers?
Do you feel that your opinions are heard and valued by your team members?
Do you feel that your manager is invested in the team's success?
Do you think your manager understands a healthy balance between work life and personal life?
Are you happy to come to work every day?
Do you feel valued at work?
These are just a few sample questions that form the AssessTEAM mood surveys, and can be modified by employers for their own teams and used in minutes. With AssessTEAM, you'll hear the voice of your employees with a clarity you never imagined was possible.
Benefits of AssessTEAM's employee sentiment analysis KPIs include:
Use on all smart devices
Include custom KPIs
Keep historic trends
Include eSignatures
360-degree feedback
Unlimited customization
Schedule a demo today to learn how employee sentiment analysis KPIs from AssessTEAM can positively change your workplace culture forever.