360 degree feedback programs aren't exactly new. As a matter of fact, they have been around for quite some time. They have become such a common management practice that it's even been featured in the popular TV series, The Office.
If you aren't familiar with this program, here's how it works:
A 360 Degree Feedback Program provides the employee with feedback from everyone they work with, hence the 360 degrees. The employer, direct management, and peers provide feedback based on the employee's strengths and weaknesses, developmental needs, and opportunities.
Done properly, 360 Degree Feedback works to encourage all team members to improve in key areas that may be causing conflict within the team, or other areas that may be preventing them from progressing on their career path. Done poorly, 360 degree feedback can lead to anger, mistrust, and conflict within the team, leaving team members with lower morale than before the program was started.
If your 360 feedback program is not achieving the expected results, there are common reasons why it is failing.
Below are 7 of the most common reasons: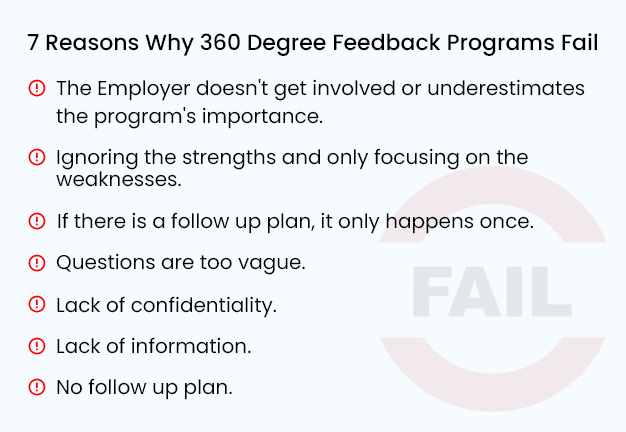 1. The Employer doesn't get involved or underestimates the program's importance.
Even if your HR department is a driving force behind the 360 feedback program, without attention from the boss it will not be effective. Whatever the boss prioritizes are important will get the most attention in their reports. If they do not believe it will help the team, the program will fail. There are several reasons a manager may not be taking it seriously. They may not believe how effective it is, or worse, do not even know that much about the program. Once you identify the reason, you can work to eliminate it.
2. Lack of information.
Even if a 360 degree feedback program is implemented, it will not be of much consequence if your employees know nothing about it. If you do not pass on the important information about the program to your team, it is just about guaranteed to fail spectacularly. Their lack of interest or lack of knowledge will have a great impact on whether or not the program is a success.
Just the term "360 degree feedback program" can sound grandiose. If your employees do not understand the reason it is being used or how it will help them, they may feel intimidated or nervous about it and will not participate properly.
Without proper information, employees may also link the 360 degree feedback program to other company processes. Often, they incorrectly associate it with a performance review instead of a comprehensive way of gathering feedback to help them grow both personally and professionally.
3. Questions are too vague.
There are a lot of 360 degree programs that only consist of generic personality profiles, and have become rather popular. Asking "are you an organized person" can be important, but if these types of questions are the extent of your questionnaire, you will most likely have a difficult time translating team profiles into measurable and specific actions. Even if you do everything else in the program correctly, asking questions that are too vague and not related to the individual employee will cause the entire program to fail. Your questions should also take into consideration the competencies of the employee being evaluated. Make sure whatever tools and questions you choose will provide actionable feedback.

4. Ignoring the strengths and only focusing on the weaknesses.
There are many "Type A" executives who like to zero in on employee weaknesses while ignoring their strengths. They can often completely overlook the strengths discovered in the 360 degree feedback process, looking only to find and eradicate their weaknesses, forgetting that those strengths were what made them successful in the first place. Weaknesses should always be addressed, but it's just as important for the success of the team to focus on the strengths as well.
5. Lack of confidentiality.
If an employee has never gone through the 360 degree process, they may be concerned about how their data will be used and whether or not it will be kept confidential. It's important for their employer to assure them that this is a completely confidential process and that their information will not affect their performance review.
6. No follow up plan.
The only way 360 degree feedback data is helpful is the extent to which it is acted on and used. Many programs fail because after the feedback is received, it is then quickly forgotten and not acted upon. No plan means no change in employee behavior.
7. If there is a follow up plan, it only happens once.
There are companies that do have a follow-up plan but only implement it once. Behavioral change can be hard and can take several reminders. It's vital to revisit your post 360 plan periodically. You should do this every quarter for two years, at which time you can issue the same 360 questions again to see how perception and behaviors have changed.
By avoiding the mistakes mentioned above, you can be well on your way to a successful experience that will help both the individual and the team as a whole. When done properly, a 360 degree feedback program can be a major factor in accelerated growth for your team.
At AssessTEAM, we understand that

employee performance management

is a critical aspect of business management. Opportunities derived from performance management software often lead to incredible improvements in team efficiency. Contact us today to learn more!