Creating OKRs (Objective key result areas) or Result Areas is a crucial part of using AssessTEAM to manage employee performance, yet a few of you have been seeking some more clarity on how to deploy our built-in, Result Areas, in your business.
Getting started couldn't be easier; look under the 'management' heading in the control bar and click 'Result areas'. You'll be presented with a library of 300+ potential result areas. This saves you the time of having to create Results Areas yourself. Just quickly search for the Result Areas that correspond to your job.
In truth, once you have assigned your result areas they are good to go. But, many of you understandably want to tailor both the Result Areas and underlying performance indicators to suit your culture and framework.
When modifying the performance indicators keep these three points in mind: precision, concision, and clarity, as this will help to ensure that your evaluators can assess efficiently. The last thing you want to do is confuse evaluators with wordy and inefficient performance indicators, as this could reduce their engagement levels and willingness to evaluate.
Clarity can be achieved by ensuring that each indicator is concise and contained; don't try to overload each indicator with too many illustrative behaviors, as this can confuse. Just include enough information to provide clarity and precision about what is being measured.
However, to be effective you do need a comprehensive set of performance indicators. We recommend between 7 and 14 indicators per result area.
Remember, result areas created are used for job clarity for the employee as well as factors to be evaluated by evaluators. The created result areas should be built in neutral language for both audiences.
We know what you are thinking, "How am I going to find these many performance indicators?" This is easy when you know how: just go through the employee's internal job description (or find a closely matching job description on the web), and you'll find lots of inspiration. For example, let's say one of the job duties is to, 'respond to client queries about the products and services'. Key performance indicators could be around speed of reply, accuracy of answer, customer satisfaction and so on.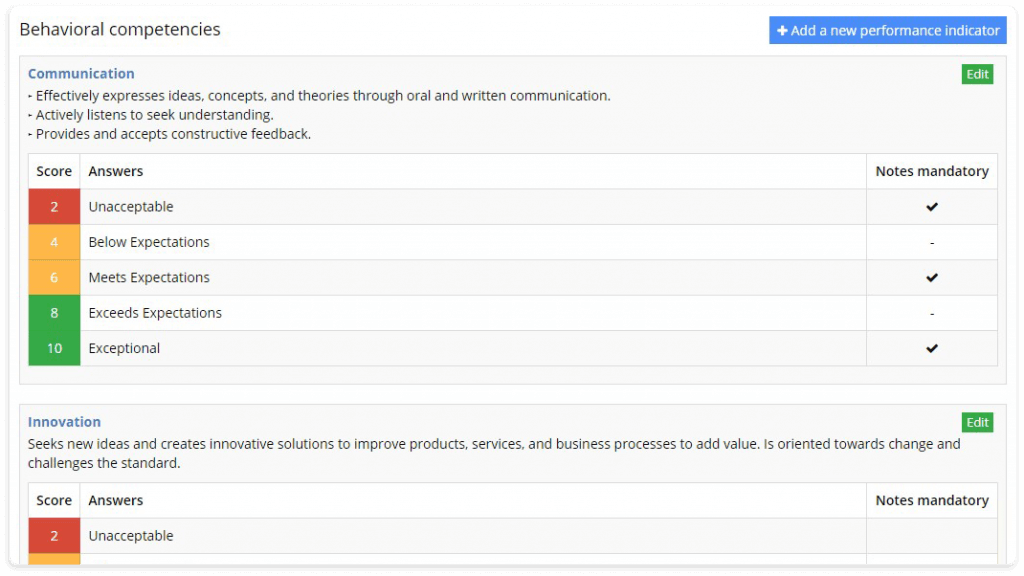 Most companies convert the job requirement documents into Result areas, the most important performance indicators are grouped into several result areas, the less important performance indicators can be grouped together into a single result area (e.g. general policies, office rules).
If you have time and/or need more inspiration, talk to key clients of the job in question and find out what behaviors they value. For example, you might find that your clients want your customer service staff to show more ownership around issues and they might indicate associated behaviors too. This can help to provide you with relevant performance indicators.
Also, a common mistake with technical staff is to neglect to put in enough indicators relating to social skills and emotional intelligence, yet research shows that programmers with high EQ develop software at 3 times the rate of those with lower EQ. Make sure you take the time to fit out your technical roles with plenty of soft skill performance indicators. In the reverse, make sure to add some more technical result areas to the traditionally more social based roles, as IT literacy is becoming crucial in all jobs.
Our friendly support staff is happy to convert your job descriptions to result areas, simply send them as word files over to
support@assessteam.com
and we will create appropriate result alerts in your account.