Instant availability of software functionality is crucial in today's business world. Having the right enabling or productivity-enhancing software at the right time can give your company the edge.

Expansion capability is almost as important as existing functionality when choosing software – as it enables to the software to quickly adapt to a changing business environment – enhancing its value.

As we have worked with AssessTEAM customers it's become clear that in many of your business employee evaluation processes and project management are closely aligned, but software isn't.

By integrating BaseCamp with AssessTEAM we enabled employee evaluation software and project management software to work together in a uniquely harmonious way. This eradicates duplicated effort and expands the potential of each respective software tool in a productivity-enhancing way.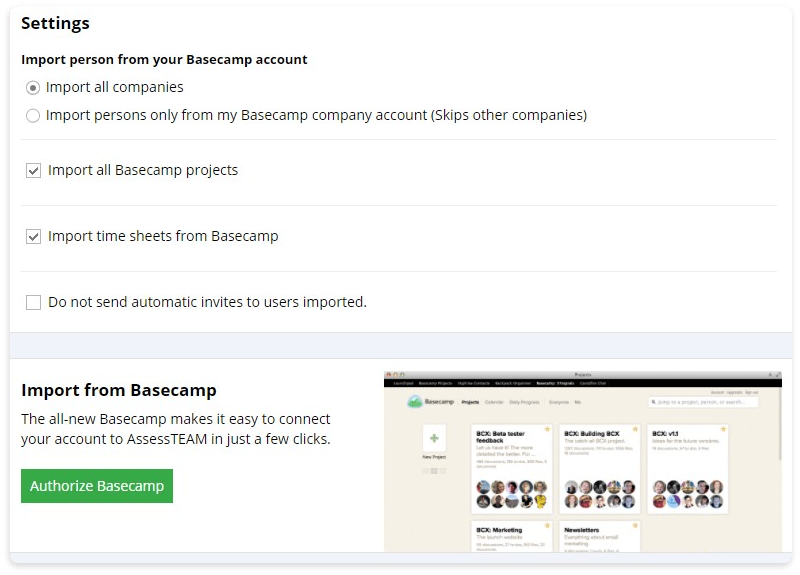 For example, your staff in your BaseCamp account can be imported in just a few seconds to your AssessTEAM, by clicking on settings, then integration and then BaseCamp from within the AssessTEAM control panel.

But, this is no normal integration with static importing because our system continues to maintain sync between Basecamp and AssessTEAM, which means that new employees automatically go into the system too. This makes data importing an almost effortless background task.

As well as this, we have set up the right footprint in AssessTEAM so that your Basecamp projects are seamlessly imported into AssessTEAM – and ongoing synced so you can track project performance in real time.

You'll probably want to track profitability and this integration supports this process too by all syncing timesheets between BaseCamp or AssessTEAM irrespective of where the data is entered, giving more flexibility around timesheet entry.

So, if you are looking to maintain individual excellence in your employee evaluation and project management process but do want to exploit synergies between these two closely aligned process than the AssessTEAM Basecamp integration is for you.
Looking for a flexible employee evaluation form? Sign Up for a free trial and see why 10,000+ HR Managers love AssessTEAM!