The increasingly nomadic nature of the modern workforce means that significant numbers of workers do not have easy, sustained access to desktop computers. For modern employee performance management programs to be fully inclusive, workers must be able to access them via mobile apps. The good news is that there are plenty of employees performance management tools out there with extensive mobile functionality. It would be best if you chose wisely.
When trialing employee performance management software, be sure to test the vendor's mobile app on your mobile device. You'll be looking for mobile app-based features such as:
Simple interface that's easy to read and navigate on a smaller screen.
The dashboard enables employees to get up-to-date reports on their overall performance score,as well as that of the team and company.
Employees can see details of upcoming evaluations and receive automated notifications and reminders
Evaluators can quickly and easily input large amounts of performance data for multiple people
Ability to easily input timesheet data, which is crucial to understanding performance in a commercial/financial context.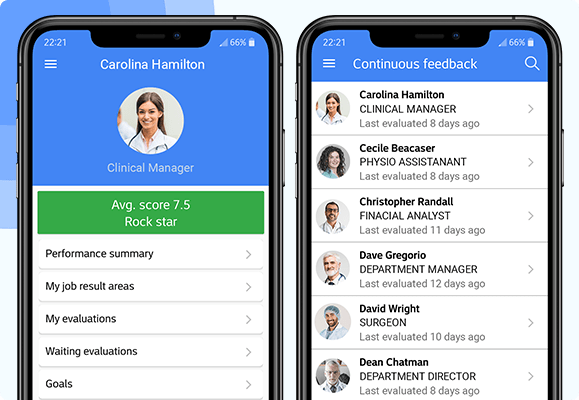 There are many employee performance management apps on the market to choose from which offer some or all of this functionality. AssessTEAM is worth considering because we pride ourselves on delivering employee performance management via mobile apps for Android and iPhone platforms. Having recognized the need to accommodate an increasingly nomadic mobile-device dependent work-force, AssessTEAM's mobile-functionality was included from the ground up, meaning it is central to the system and was not tacked on as an afterthought. It contains all the core functionality mentioned above, but this is all contained in an employee performance management system with time-saving features, and which provides unique visibility into employee and team profitability, (thanks to its integration with employee timesheets).
With the right software, it is easy to incorporate mobile-based employee performance management into your business. With AssessTeam you can get unique insights into team profitability too.