"Performance Management is a holistic management discipline which needs to connect many relevant dots to involve development, enablement, and enhancement." – Pearl Zhu, Digital Maturity: Take a Journey of a Thousand Miles from Functioning to Delight
It is widely accepted, as the quotation mentioned above by Pearl Zhu notes, that performance management needs to be an integrated part of the overall business model for the successful organization, irrespective of shape or size. Succinctly stated, the performance appraisal process is a comprehensive way of managing employee performance in relation to organizational success.
Secondly, it is equally important to note that we are moving towards the Fourth Industrial Revolution. Actually, our modern world is currently at the entrance hall to the Fourth Industrial Revolution.
Setting up 360 degree feedback on the cloud
On average 360 degree feedback requires about 5 times the number of evaluations when compared to traditional top-down evaluations. Self-reviews, peer reviews, downward and upward reviews, to collect all the reviews, manage the reporting and populate reports that give management a clear insight is a very intensive job that should never be taken lightly.
Traditionally 360 degree feedback would be collected on paper and then compiled into spreadsheets, this would mean the reports were expensive, and once delivered changes were not possible, this limited the usage of the reports and significantly increased HR work overhead.
Cloud-based 360 degree feedback platforms like AssessTEAM make it simple for you to run 360 degree feedback campaigns for your employees, for a team of fewer than 1000 employees setup takes less than a week and data collection takes just over 2 weeks. As the data starts coming in reports get activated and data can be exported out at any stage. Changes to the process which are unthinkable while using paper are now easy to implement on the fly, in fact, many customers leave team managers to setup 360-feedback profiles for their subordinates leaving the HR to work on reporting.
3 quick steps to send out your first 360 degree feedback evaluation on AssessTEAM
Define downward, peer, and upward evaluators on the person profile: AssessTEAM enables managers to configure an employee's evaluators using dedicated vaults. This includes Downward evaluators which refer to Managers or supervisors, Peer evaluators, refers to all peers at the same level, and Upward evaluators which are persons' direct reports or subordinates.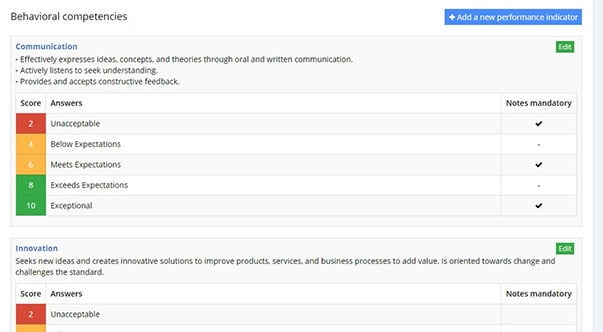 Define appropriate KPIs or competencies to be evaluated: Prepare and define appropriate job performance criteria for each job position. Inclusion of behavioral competencies in the performance reviews gives a more holistic view of employee's performance through the 360-degree evaluation process.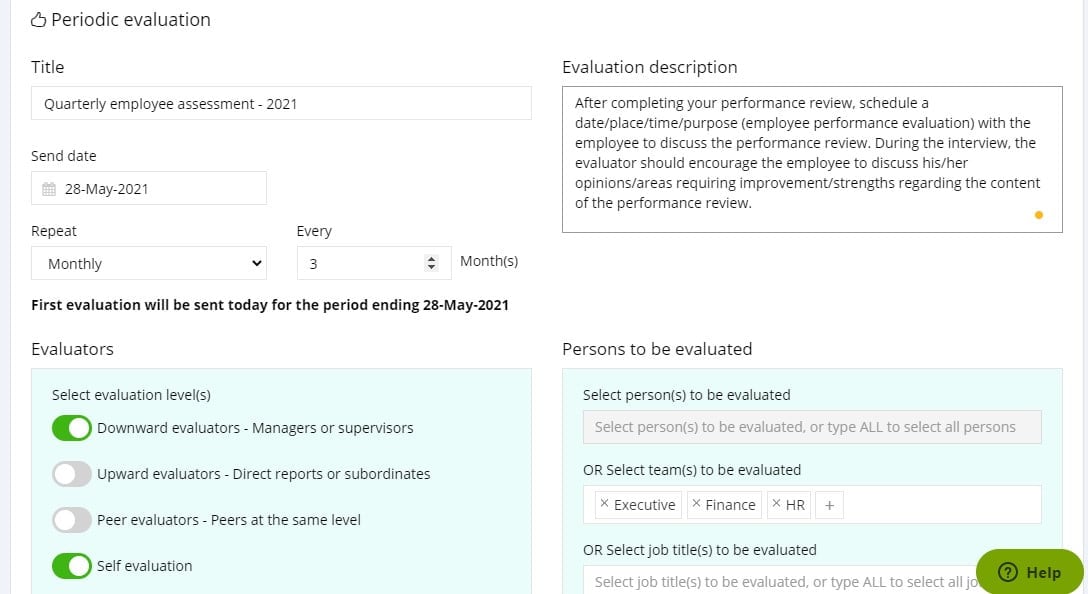 Create evaluations for all the levels together or independently for downward, peer, and upward evaluations: AssessTEAM offers team leaders and managers the ability to create the evaluation requests for all evaluator levels that accommodate independent scheduled reviews for downward, upward, peer, and customer feedback evaluations.
Cloud versus a dedicated server
The primary difference between hosting software and storing data "in the cloud" versus on a dedicated server is that when the cloud is used, the organization does not know which servers its software and data are stored on. Conversely, when using a dedicated server to store information and software, the organization knows which server its data and software are stored on.
When it comes to the day-to-day use of performance review software, it does not really matter where the software owner hosts the application and accompanying data. What is important to note is that the software is available 24/7, 365 days per year.
A business organization is afforded the following benefits when signing up with a company that hosts their performance appraisal software "in the cloud":
Online cloud based access
The fact that this software is online all the time and can be accessed from a multitude of devices including smartphones, tablets, laptops, and desktop computers provides both employers and employees with the opportunity to fill out their performance appraisals when they have a spare moment.
This process is no longer a paper-based process that has to be completed within a specified timeframe; thereby, taking staff away from completing important tasks that drive income to the business.
Inclusive, transparent process
The performance review process must be inclusive. Staff needs to be able to give their input and feel as though their input is valued. Because this process is online, all employees fill out the same forms and answer the same questions. There is no longer a risk of staff feeling left out as they might do using a paper-based system.
Simplifies the evaluation process
The 360 degree evaluation process on the cloud ensures that clear deliverables are set, making sure that employees know what is expected of them during the working week. And it includes a simplified review process that is based on continuous feedback rather than annual or bi-annual feedback.
Finally, the software produces detailed, meaningful reports that are based on accurate data. Management or the employer can then utilize this reporting model to define areas of concern that can derail the company's ability to drive income to the company and implement growth strategies successfully.
Final thoughts
There is no doubt that the Fourth Industrial Revolution is currently changing and will continue to impact the way organizations operate. Therefore, it is vital to ensure that this organization's performance review process is inclusive and meets its stated outcomes to ensure that it is successful within the Fourth Industrial Revolution.