"When done right, employee evaluation can facilitate professional growth and provide motivation for employees, while still offering liability protection for the law firm," Anonymous
Clients, whether individuals or businesses, are demanding accountability and value, and with the rising levels of competition within the law field, law firms need to be very efficient. They should also be aware of any results that come due to any technology integration or changes they implement in their system. If the legal practice cannot gauge the results, like the customer experience and the bottom line, it can be difficult to know what's working, and what's not.
The good thing is that law firms can utilize several performance metrics and benchmark data for in-house legal professionals to measure the quality of legal services offered, law department performance, and monitor the success of the strategic initiatives. It's important to note that effective performance measurement program for a law department should feature both qualitative (customer satisfaction, value) and quantitative (speed, cost) metrics.
The advantages of law department metrics
Both, the law firms and legal professionals, will benefit from assessment of such key performance metrics as the number of on-going or closed litigation matters.
Evaluation of the lifecycle times of lawsuits can also provide some valuable information on strengths and weaknesses.
Here are some employee evaluation metrics for legal professionals
Customer survey metrics
Legal departments can borrow from software and consumer-facing businesses, and adopt the Net Promoter Score (NPS). It's important for law firms to get ongoing feedback from customer to find out their satisfaction rate. They can ask them how likely on a scale of 1-10, they are to recommend the practice to their family, friends, neighbors, and colleagues (with 10 being very likely, and 1 not at all likely). With this data, they can calculate the score across customers, and decide where they need to improve.
Workload metrics
Legal departments or fee centers should understand the amount of load each attorney can handle at a given time and determine if the attorney is fully taking care of that potential workload. These metrics should also measure how long it takes to complete certain matters.
Cost
The legal industry is struggling to solve the "more for less" puzzle, maybe because it's an equation with no solution. There's a cost difference in hiring private or in-house lawyers. Therefore, it is essential for practices to weigh between the two, and establish which one brings in more returns on investment. They can measure the internal versus external spend, the extent to which the internal spend is variable or fixed, the size of the external spend against industry averages or whether work is being tendered competitively to make sure they're getting the most valuable provider.
Competence
Practices also base their evaluations on the employee's competence. A good attorney needs to have a good grasp of the facts as well as the actual and anticipated problems in relation to the law. They conduct sufficient consultation with the client and often deliver satisfactory services. These metrics are crucial for a firm that's looking to appraise or retain some employees.
Employee's behavior
Law firms should use the rating scale to measure how well an employee performs their tasks. They can then rate the employee's behavior as falling into any of the three to five categories, with the highest level translating to 'exceptional' and the lowest, 'unacceptable'. While doing this, the ratings must be more descriptive and customized to allow for a clear description of how the evaluator reached the metric.
Analyze the profitability of departments
Accessing how each department or fee center is performing in terms of profits is also a great way of knowing whether the legal professionals are delivering what is expected of them. Although it is difficult to analyze an individual using this method, it paints a clear picture of the departments.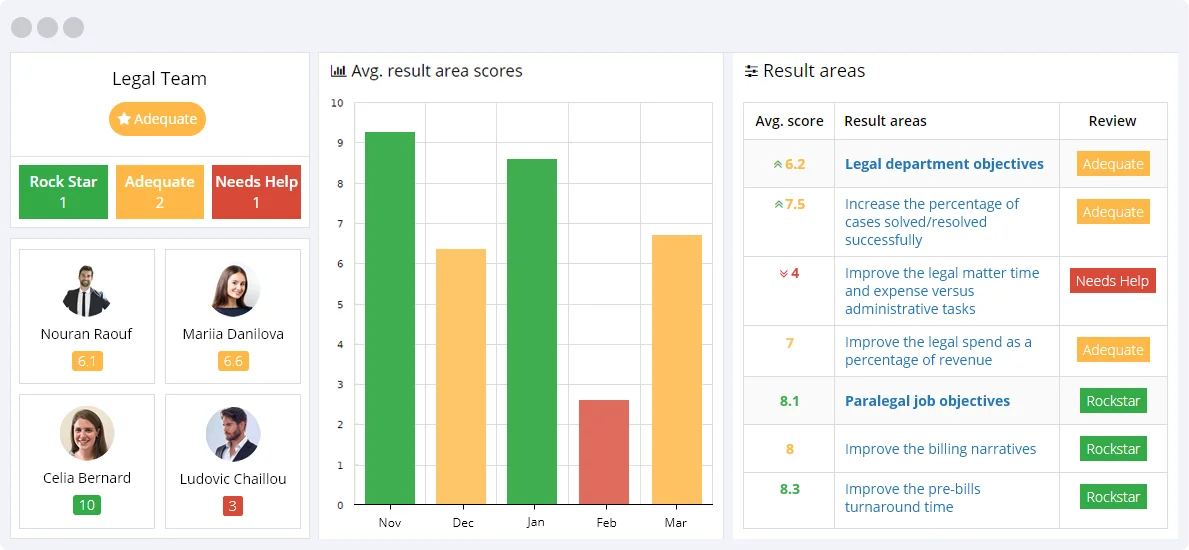 Track fees by case
Getting new leads to enroll for legal services is paramount for the sustainability of any firm. Healthy signups and leads are a good sign; however, these have to translate to cases being completed with a fee for the practice to make profit. Therefore, leads, signups, and fees are incredible signs of a profitable firm, so checking them on a day-to-day basis is strongly recommended.
In conclusion
Employee evaluation for legal professionals
helps firms to objectively measure and analyze the performance of employees. The process is ideal for strengthening the morale of employees, as well as fostering personal growth. The metrics also support and influence business objectives and are critical for performance management.
Looking for a flexible employee evaluation form? Sign Up for a free trial and see why 10,000+ HR Managers love AssessTEAM!