"The key to a company's success begins and ends with retention of key employees," Anonymous
There is a lot to lose when a business experiences a high turnover rate. It will have to recruit new people and take them through training – and if it happens regularly, then the process becomes costly. The business also tends to fall behind on its targets because of the constant disruption.
Employee replacement costs a company about one-fifth of what the employee earns, this is according to a recent CAP study. If the research is anything to go by, then it will cost a company much more to replace people in high positions. It is, therefore, in the company's best interest to retain the key employees.
That leads us to the question, who are the key employees?
Key employees have the power to make major decisions in a company. They often are paid well and may get special benefits as an incentive to stay with the company. From an internal view, a key employee is an essential part of the company's operations. For instance, they may hold a role that ties directly to the sales channel of the business. They also could be the face that represents the company. In the end, they are recognized as important persons in maintaining the investment as well as supporting relations.
Most companies are in business for profits. Therefore, they need to put measures in place that will ensure their growth. One such measure is the employee performance metrics, which give constructive feedback on whether an employee is performing below, averagely, or beyond the goals of their defined tasks.
Employee performance metrics is the best way to track the performance of key employees in a company. When done right, it can benefit both the employee and the company.
How can companies apply employee performance metrics to retain the key employees?
Before we answer this question, let us look at this 9-box grid.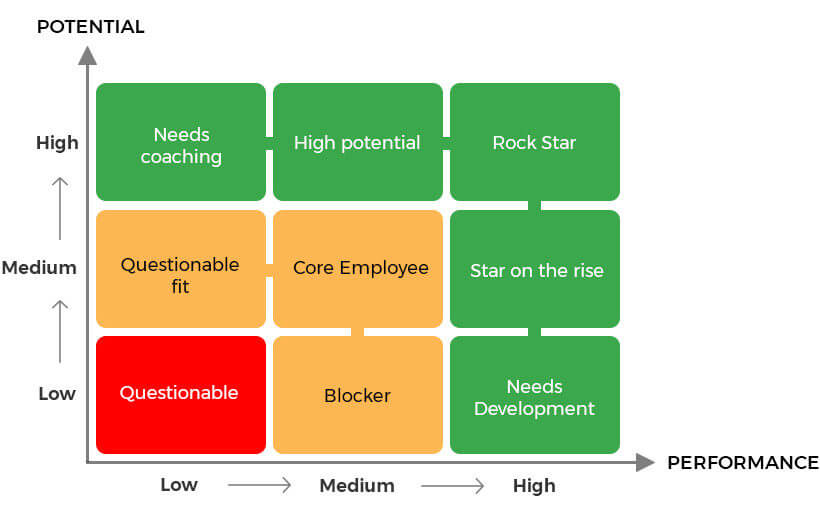 Y-axis (Potential)
X-axis (Performance)
From the table, an employee with low potential and low-performance metric is questionable. On the other hand, an employee with high potential and a high-performance metric is a jewel worth retaining.
Types of employee performance metrics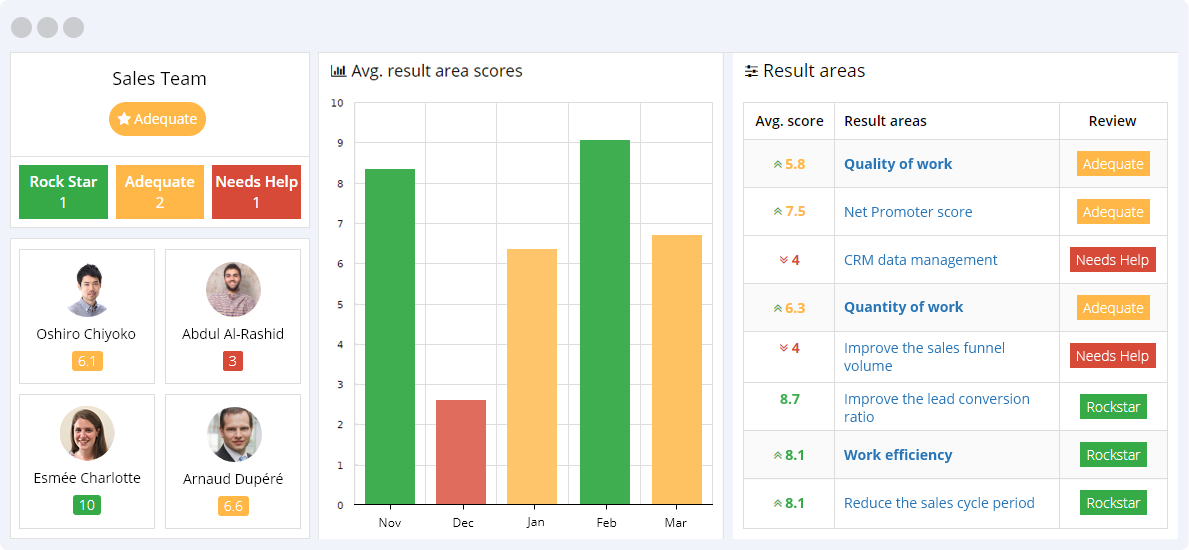 Quality of work
Although it is hard to measure quality objectively, companies can observe the number of defects or rejection of a product, and use that to gauge employee performance metrics. They also can check for the number of bugs in an app code or a number of errors in a written document to establish quality. For a sales employee, companies can view their Net Promoter Score, which indicates the willingness of clients to recommend their solutions. The NPS number ranges from 1 to 10, with 10 showing complete satisfaction.
Quantity of work
There are different ways to measure quantity. A company can gauge this type of performance metrics through the number of sales – where an employee with the best skills sells the most within a specific period (with all factors held constant). Other employee performance metrics include the number of active leads, the number of company visits, the number of phone calls on makes, the number of potential client contact one has, etc.
Work efficiency
Both quantity and quality employee performance metrics will not say much on their own. For example, when a copywriter writes five pages of articles in an hour, she clears a lot of ground; however, this says nothing about the quality of these articles. That is why companies integrate work efficiency as another employee performance metric. Efficiency considers the resources like money and time required to yield a specific output.
Organization level
Companies can calculate the revenue and profit per FTE (Full-time equivalent) of an employee to see how much each one of them brings in. They can also review the human capital ROI, to assess the value of the employee (their habits, knowledge, and personal and social aspects).
When companies make investments, they hope to get a return in the end. An employee who scores high on the employee performance metric is worth of retention efforts since they contribute to the company's financial health.