"Any fool can criticize, condemn, and complain — and most fools do," Anonymous
What you say during performance reviews can inspire and motivate your employees to improve their performance, or cause them to feel demotivated, confused and even angry. As an effective leader, your goal should be to make the review process a positive learning experience so your employees can grow.
Unclear or harsh communication might mean another year of low morale, mediocre results, underperformance, and possible resignation. But if you take advantage of the review process to communicate improvement, celebrate success and coach the team towards embracing higher standards, then everybody wins.
Here are the Do's and Don'ts of giving negative employee performance reviews:
Don't do it through email
Giving a negative performance review is already a difficult thing to do, but doing it face to face is even more challenging. Nevertheless, regardless of how hard or uncomfortable the situation might feel, you should never pass the message through email.
Remember, a performance review intends to help the employee in question improve, and if you email them, then you lose the opportunity to discuss the issue at hand.
Don't use foul language
Always have the end goal in mind while giving a negative review. You should not, at any cost, yell or use foul language – everyone deserves respect, even the worst of employees. Instead, you should appreciate that they are also professionals and that they only need some guidance to help point them in the right direction.
Other than respect, using foul language is not acceptable by workplace law. So, if you don't want to find yourself in legal troubles, you better calm down and give the review as the mature and sane person you are.
Don't be emotional
Before you approach the employee, take time to stabilize any frustrations or anger that you may have about the situation. You also should not bring impatience into the conversation.
According to experts, most managers get impatient with employees who don't perform as expected because it is frustrating for them to see someone fail, which is understandable. But all in all, not all right.
These emotions – anger, frustrations, and impatience – can obstruct the effectiveness of the feedback as the employee in question might end up feeling attacked and resolve to be defensive. As a manager, you have to neutralize your emotions and focus on the facts if you want to effect change.

Don't do it in public
No one wants to be publicly shamed, not you, not the least of your employees. As such, it is unwise to give someone a negative performance review in front of everyone else. Unlike appreciation which is done in public, a negative review is better delivered in private; otherwise, it might only spread negativity throughout the workplace.
Don't be bias
Fairness is a top characteristic of an excellent manager – and is a great quality to leverage while evaluating your employees' performance. Don't let aspects like age, gender, religion, marital status or even disability to guide your decision. Aim to be fair and polite regardless of the review.
Do start with an honest, positive review
A great way to give a negative review is by starting with a positive one, as it helps to ease the air. Look at the employee's previous works and find something good that you can comment about. However, if you cannot see anything positive, then be honest – don't lie.
Do seize the moment
Performance feedback intends to help the employee know their strengths, weakness, and opportunities. One great way to go about this is by giving feedback quickly after an action occurs, as it's still fresh-of-mind for you and the employee.
"A good manager will give feedback at the moment, whether constructive or positive because they care so much that being honest is more important than anything else," Peter Miles
Do use facts
When giving constructive feedback, try to be as direct as possible, and only use specific terms. Don't forget to have relevant facts to back up your claims.
You should also have actions or suggestions for changes ready to discuss with your employee once they have acknowledged the issue at hand. A seamless transition from one part to the next will help keep the feedback natural.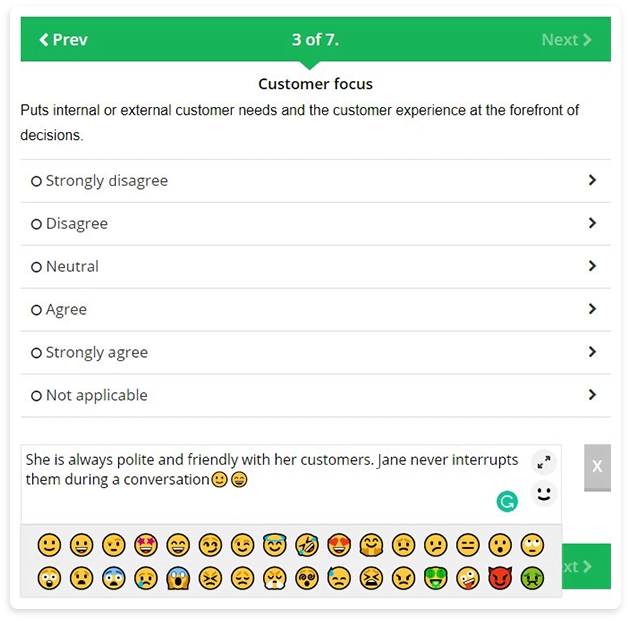 Do focus on patterns
If an employee is continually doing something that results in underperformance, be sure to point out the pattern. For example, if they are always late, and never hit their deadlines, you can use that to help them know that it would be easier for them to complete their work if they kept time.
The idea is to focus on smaller, easy-to-address behaviors instead of big-picture problems that might be overwhelming.
In conclusion
The goal of

performance reviews

is to set aside time in which you and your employees can assess performance as well as progress and come up with strategies that will help improve future performance. Make sure that your constructive feedback promotes the development and growth of employees, as opposed to crushing them.