Job performance reviews are essential to creating a team that consistently works towards the organization's goals. But in many cases, managers don't prioritize job performance evaluations because they don't have an efficient job performance review system.
That said, performance reviews are definitely worth the investment because when done right, they can promote staff recognition, enforce acceptable performance boundaries, enable effective communication, and ultimately motivate everyone to do their best not only for themselves but for the organization as a whole.
When doing a job performance review, your goal should be to provide equitable measurements of each employee's contribution to the team, obtain a higher level of quantity and quality in the work produced, and create accurate performance documentation that protects both your employees and you as the employer.
Here are the five steps to creating a new performance evaluation system for your organization
1. Develop a clear evaluation form that does not change often
The best way to ensure that job performance reviews are conducted consistently and fairly is to use an evaluation form that is clear and does not change for each review. Having this in place also ensures employees do not get confused and the data can be analysed with trends.
The form should focus on essential job performance areas. This will allow you and your employees to address issues that matter most while making assessments more relevant and meaningful.
The performance areas to be included for most staff positions are quality and quantity of work, job skills and knowledge, and work attitude and habits. Each area should have a range of descriptors from which an appraiser can choose (e.g., needs improvement, satisfactory, good, excellent). Provide some space on the evaluation form for the appraiser to provide the reasons behind the rating.
2. Identify performance measures by person or job title for larger teams
This is probably the most time-consuming task of creating a job performance review system, but once you have it in place, you can cut down on the time (and the stress) involved in the process. It also allows managers to evaluate job performance objectively.
Standard performance measures are specific quality and quantity goals attached to the job description for each position. For example, a call centre employee's job description may include the task of making cold calls. The standard performance measure for this task may be to answer 90 to 120 calls daily (quantity) or 10 conversions per day.
3. Set a performance review schedule—and stay with it
Some practices conduct employee reviews at the same time every year, and others do them within 30 days of an employee's employment anniversary. No matter when you decide to schedule these reviews, ensure that they are done in a timely manner. Ignoring overdue evaluations will hurt morale and make the reviews themselves seem less important.
4. Facilitate regular and continuous feedback
In addition to scheduled reviews, motivate employees and supervisors to give frequent feedback on job performance, and employee behavior throughout the year. By promoting a continuous feedback culture, no incidents will be missed and when the final performance review time comes, managers can collate all these (short) reviews and use this information to give a rational and unbiased opinion about employee performance.
Frequent feedback aids in better communication and can be collated towards the annual remuneration increase and bonuses.
5. Deliver actionable reports to your managers
This is perhaps the most important part of the process – visualize your evaluation data to identify strengths and areas of development for your employees. Compare employees' performance with their peers and to their own performance from last cycles to track progress and skill development. Managers and leaders must be empowered to access their team reports that enable them to spot top performers in the team and design development goals for their team members.
Reports that are overly complicated or plot everything on a graph look great but are often too confusing to use in a real environment. Delivering clear actionable data on your reporting dashboards will keep your managers from ignoring the pesky evaluation requests.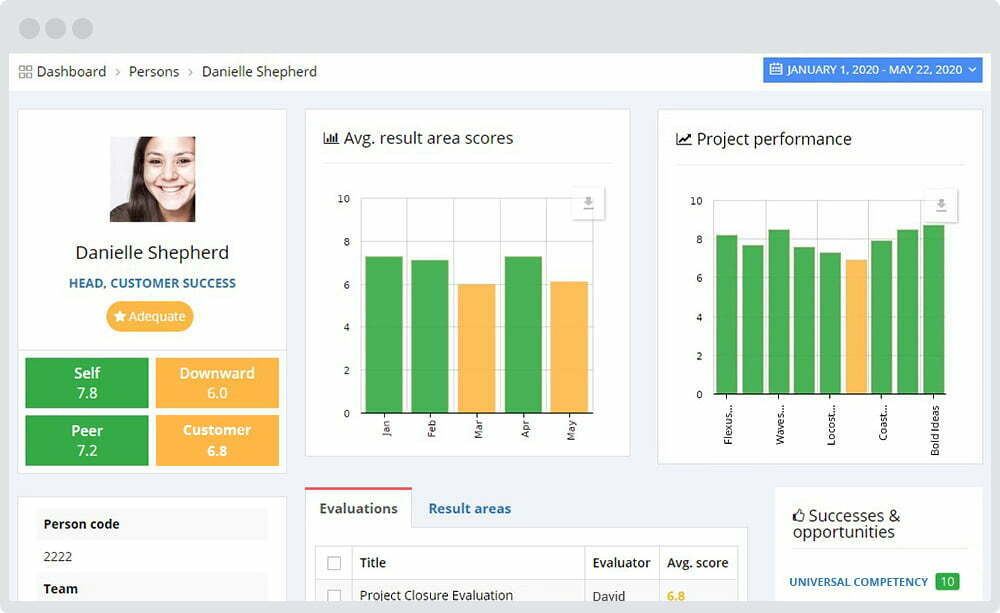 Using AssessTEAM is one of the easiest ways to make your job performance reviews more efficient. AssessTEAM can generate evaluation data that you can use for long term analysis and decision-making from all types of job evaluation methods. Our mobile app version makes employee appraisal simple and stress free for HRs and managers. Try a free demo today.