A formal assessment in which a manager or team leader evaluates employee performance, identifies weaknesses and strengths, provides feedback, and sets goals in place for future performance is known as an employee performance review. In the past, most companies and organizations conducted performance reviews on an annual basis, but today, more and more businesses are moving towards a more frequent performance management system where managers conduct reviews weekly, monthly, or quarterly.
When conducted the right way, performance reviews can help employees understand what they are doing and what areas they can improve, how their work supports the overall company goals, and what the company expects of them.
Many people struggle when it comes to conducting bias-free performance reviews, but what is the reason behind this? An unfortunate aspect of human nature is that we often make unfair judgments about others. Even the most objective and liberal thinkers form opinions about others because our subconscious cognitive biases influence us. The human brain attempts to simplify information processing through a systematic error in thinking known as a cognitive bias. Whether we realize it or not, the decisions we make are often influenced by our life experiences, emotions, and personal beliefs.
Unfortunately, biases are a common aspect of the workplace. And this can be especially true when managers and team members are tasked with evaluating the performance of subordinates and co-workers. There is a lot of information to keep in mind when conducting performance reviews. Raters can quickly get wrapped up in unimportant details and incorrect information. This is known as rater bias.

How Can You Minimize Bias in Performance Reviews?
It is nearly impossible to eliminate biases in the workplace because they are simply a part of human nature. There are, however, ways to create effective performance review processes to ensure these biases are kept out of evaluations.
Establish set goals for employees as milestones for performance reviews.
It is vital to establish exactly what successful job performance looks like for every employee. Avoid generic evaluation competencies like "teamwork" and "initiative," and instead, set defined goals for each employee, so they understand the clear and precise intended outcomes.
Utilizing the SMART method (Specific, Measurable, Achievable, Relevant, and Timely) leads to objective goals that help your employees understand exactly where their focus needs to be. Using the letters in the acronym step by step allows you to set the appropriate goals and establish the basis for every employee performance review.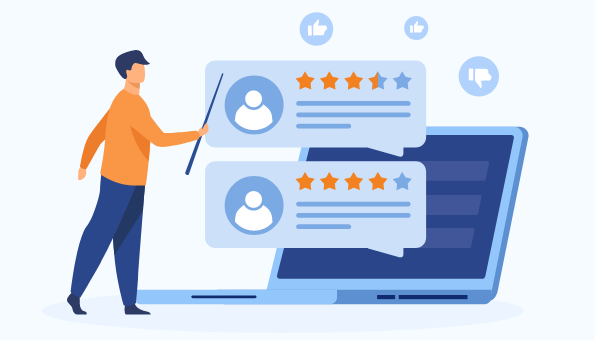 Create effective rating scales and performance review forms.
SMART goals will account for most of the employee performance review, but you should balance out evaluation forms with the proper leadership and behavioral competencies. Think about the relevant criteria for each job role instead of using the same competencies for every employee. It's also a good idea to include descriptions for each competency which will help raters understand what to consider when scoring an employee on subjective criteria.
Another thing to consider is instead of using a numerical 1-to-5 scale, use a semi-quantitative rating scale with five scoring options:
Exceptional

Highly effective

Effective

Minimally effective

Not effective
Collect 360 degree feedback
Biases are more widespread when one individual only reviews an employee. This can be avoided by collecting feedback from multiple raters and will lead to a more comprehensible picture of how the employee is performing and where they need to improve.
By using the 360 Degree feedback feature in a performance review software, an overall picture is established about the employee from reviews conducted by their immediate team members, co-workers in other departments, senior leaders, and even from others outside the organization. The manager will complete the final evaluation, but having access to different perspectives can help them to overcome any personal biases about the employee.
Allow employees to conduct self evaluations
When a review is only conducted by the manager, a one-sided conversation is often the result. Have the employee conduct a self review based on the same competencies others use to rate them. Discussing these results opens the path for more productive two-sided conversations.
By encouraging employees to conduct self reviews, you also help to overcome any biases the manager may have. The employee is allowed to share their outlook on why they approach their work the way they do.
Regularly check in with employees
Employee performance is more than just a quarterly or yearly discussion. It's important that employees meet with their manager regularly to discuss what they are working on and how they are feeling about their job performance. This allows the manager to give immediate feedback to help the employee overcome any challenges they are facing.
By conducting regular performance related conversations with employees, managers are less likely to make snap judgments when completing formal reviews. The manager is already aware of any issues hindering performance and how the employee is working to improve.
Optimize Employee Performance with AssessTEAM Performance Review Software
There will always be raters who provide inaccurate performance reviews no matter how many measures you put in place. With AssessTEAM performance review software, you can quickly identify rater biases with an easy to understand report. This report allows you to pinpoint exactly which raters are either too strict or too lenient with their evaluations so they can be coached on how to honestly and fairly conduct employee performance reviews going forward.
Establishing goals and setting expectations that help employees make a positive impact from the start is easy with AssessTEAM. We deliver job clarity to your employees, leading to improved productivity and better employee engagement. Get your free demo today!