"Employees engage with employers and brands when they're treated as humans worthy of respect." – Meghan M. Biro
Are you an SME (Small Medium Enterprise) owner? Or do you manage the human resources (HR) division of a large corporation? It is not essential what your official role in your company is; the pertinent point is that you work with and manage human resources (or employees).
Consequently, you will also have a unique understanding of the challenges facing the HR management team of any company, from a small start-up to a global corporation. Some of these challenges include leadership development, performance management, skills and training management, recruitment of suitable staff, as well as employee retention management.
The good news is that you are not the only person in the world that faces (and needs to find solutions to) the difficulties of looking after the modern-day employee. Furthermore, there is software on the market which makes aspects such as employee performance evaluation simple but successful.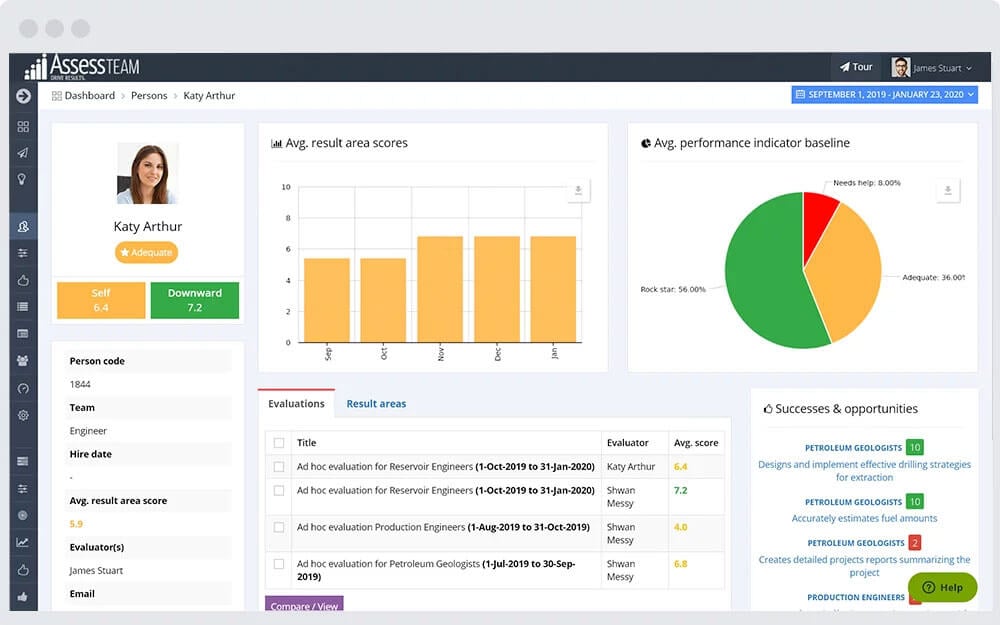 Why employee performance evaluation software?
Before we discuss the pertinent features of a valuable performance evaluation software application, let's consider why utilizing a software application to track and manage employee performance evaluation is a vital part of successful staff management.
Furthermore, it should be noted that at this juncture that successful staff management will impact on staff retention figures. It stands to reason that after you have employed staff and invested in their training and skills development, you do not want them to resign. Resignations cost money.
Part of employee management is determining whether they are performing in their jobs or not. Staff performance is traditionally measured by comparing each employee's ability to do their job against predetermined Key Performance Indicators (KPIs). Moreover, these performance reviews are usually conducted once or twice per annum, are seen as a time-waster, and are considered an ineffective way to gauge real-time performance.
Consequently, it is easy to conclude that employee evaluation software is a critical part of HR management.
What to look for in Employee Performance Evaluation Software?
Once this conclusion has been reached, the next point to consider is what features need to be included in the employee performance evaluation software that will add value to the task of HR management.
Here are the four top features to watch out for when choosing the right product for your business:
Turnkey solution or not?
It is a fact that not all businesses are the same. Therefore, when researching what software to purchase, it is vital to check to what extent the software application is customizable to provide value to your business. Software development houses often create a generic application and expect business to change its rules to match the software. The reality is that "one size does not fit all". Therefore, it is vital to find a product that matches your business and not the other way round.
Simplicity and security
There is a lot of talk in the software development industry around the Usability and User-Interface of each software application, albeit web-based or client-based software. Part and parcel of this discussion is data security. The software should be easy to use and protect customer data at the same time. The one aspect cannot take priority over the other. 
Added to the security aspect is the fact that the European Union has approved the implementation of the GDPR (General Data Protection Regulation) on 25 May 2018. Thus, any software application that targets European Union customers is required to implement the GDPR this date. Therefore, it is essential to check whether the software you choose has, in fact, applied the GDPR rules or not.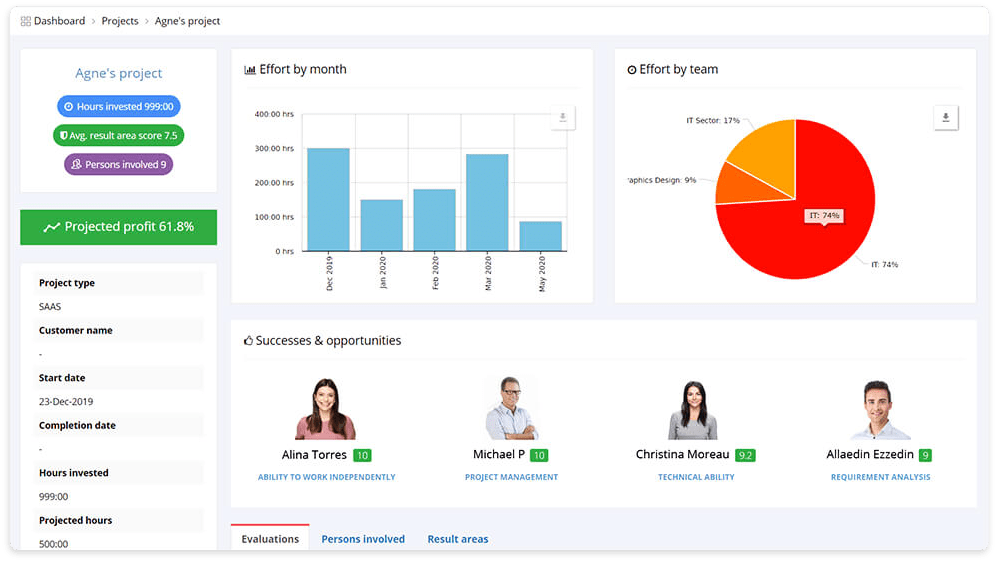 Project-based profitability measurement
As mentioned above, employee performance is usually measured once or twice per year. Furthermore, most employees and managers consider it a necessary evil and a total waste of time. Because KPIs are usually general and not project-based, it stands to reason that it is challenging to gauge employee profitability accurately.
Thus, an improved means of employee performance measurement is to look at each staff member's performance per project. In other words, the question that should be asked and answered is how well does an employee performs in relation to the team and project that (s)he is working on. These measurements can (and should) be taken both during and at the completion of each project.
Third-party app integration and mobile device compatibility
It is vital that a solid employee performance measurement application has the capacity to integrate seamlessly with other third-party applications such as Google Apps, Microsoft Office, and Project management systems.
Why?
The best way to answer this question is to cite an example. Spreadsheets (Google and Microsoft) can manipulate statistics based on some different parameters. Therefore, it is critical that the employee performance measurement software that you choose includes the capability to import and export raw data.
Looking for a flexible employee evaluation form? Sign Up for a free trial and see why 10,000+ HR Managers love AssessTEAM!