"Talented employees stay because they are: paid well, appreciated, listened to, promoted, involved in decisions, mentored and challenged," Anonymous
Healthcare is a service industry, and it thrives on happy clients. For this reason, the hospital employees are expected to perform at their best to ensure that all clients — in this case, patients – receive the level of care that they deserve.
As a measure of quality, most hospitals evaluate their employees periodically to check their performance. This provides employers with the necessary information they need to make decisions, like pay raises, promotions, and layoffs. It also motivates the workers to perform better. However, like most processes, employee evaluation is bound to have some setbacks. This article highlights some of the challenges and solutions to help institutions get the most out of the process.

Here are some employee evaluation metrics for hospitals:
Time management
Many facilities use cloud-based time management systems to register their employee's project time. It's, therefore, easier for leaders to monitor how each employee uses their time. An employee who always starts late creates a pattern of inefficiency across all schedules, which increases costs for the facility. Lateness may also dissatisfy patients.
For facilities to compare time metrics, they should ensure that it measures the same thing for all physicians. Therefore, they should be clear as to when the timing begins for accurate results. Some facilities measure the start time as when the physician walks into the operation room or when the patient is sedated, which isn't right because some surgeons mark the patient in the pre-operation room, while others after sedation.
The best approach is to come up with a fair measurement that recognizes the start time – like when the surgeon makes the first incision, etc.
Infection rates
When reviewing physicians, leaders also check for the infection rates – they use the CDC definition, which involves factors like swelling, redness, and heat in the area. CDC highlights four different levels of infections, and the employers count them all.
However, some physicians put their patients on antibiotics immediately after treatment, which may tamper with the result. If such happens, centers can wait until the patient comes for their post-operation check-up – when the infection will be evident. Better yet, the management can call up the patients to follow up on appointments. Often, they will report an infection case.
Surgical quality
Hospitals monitor direct outcomes to measure the impact of care on the patient's quality of life. They use operative mortality, functional health status, readmission rates, length of stay, complication rates, patient satisfaction, and so on to measure quality.
Some institutions also use process measures to indicate the kind of care that patients get. For instance, primary care physicians are evaluated as per the number of their patients that receive appropriate retinal exams, mammograms, and vaccinations. This process is also incredible for tracking the exact procedures, medication, and even the type of anesthesia used.
Evaluating surgical outcomes is particularly tricky because the intervention efficacy isn't often evident, complications take time to show, and the number of patients who don't follow. But with great plans and keen execution, employers can attain high-quality employee evaluation, and in the process, equip themselves with the best patient care improvement tool.
Hand hygiene
Healthcare-associated infections can lead to high disability, morbidity, and mortality risks. It also reduces the quality of life and raises the costs for health systems. Good hygiene practice is one way to minimize the transmission of pathogens, as such, it is essential for employees to adhere to hand hygiene recommendations.
Despite the importance, most employees do not comply; therefore, institutions use hand hygiene counting devices or direct observation (monitoring HH compliance) to monitor the physician's hand hygiene practices. They then use this information to calculate the adherence rate.
Workers are to clean their hands before and after touching a patient, after exposure to body fluids, before clean procedures and after contacting the surroundings of a patient. The challenge with this approach is that some physicians do not wash their hands properly.
As a remedy, facilities should embrace new techniques that train workers on how to wash their hands, in addition to tracking and monitoring.
Cost per visit
Health institutions measure the labor cost per case to identify surgeons who take longer to finish an operation, who use more staff on a case, or who use a more expensive team. These metrics are crucial not only for the improvement of a facility but also for clarification of variance.
Since the metrics are for employee evaluation, it's crucial that the leaders compare only the same kinds of surgeries. Using a one-size-fits-all approach will not deliver accurate results. The review should include all labor costs that go into a case, such as the pre and post-op costs along with the staff cost in the operation room.
Additional challenge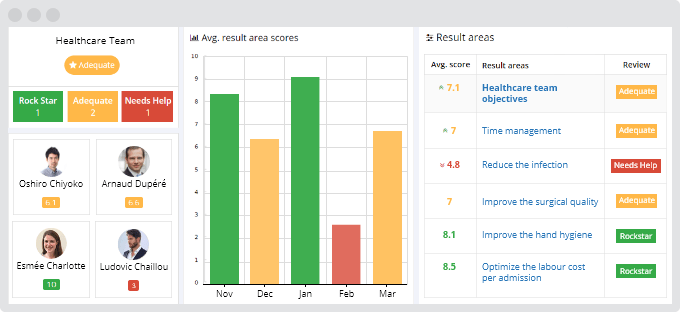 Sometimes, the manager may dislike giving negative feedback, and therefore decide to inflate their worker's ratings to evade the difficult conversations. They also may do this so that their department may rank amongst the best. The problem with this approach is that in case there's firing or layoff, the evaluations may work in favor of the employee if they choose to go to courts.
On the other hand, some managers will give employees low scores regardless of their efforts. Unfortunately, this demoralizes the workers and even drives them to look for jobs in other hospitals.
Conclusion
An Employee evaluation system is essential for
healthcare professionals
as it helps to gain feedback, check whether the performance is effective, and discuss an improvement strategy. The process is beneficial to both healthcare professionals and patients. AssessTEAM ensures accuracy in performance measurements, better tracking of trends, and clarity in decision making.
Looking for a flexible employee evaluation form? Sign Up for a free trial and see why 10,000+ HR Managers love AssessTEAM!