In a competitive market, empowered employees expand the skill pool and experience, catalyse productivity, boost innovation, and provide the talent you need to succeed. When your employees are empowered they will direct their own career development towards achieving company goals.
When a performance review system becomes an integral part of your performance management, employees will flourish using an automated self-assessment that is driven by ongoing communication and feedback.
It is believed that only 40 percent of organizations have switched to a complete automated performance review system. More than one-third of organizations still continue to use a paper-based performance appraisal system or a combination of automated and paper-based systems. In a recent study, analysts concluded that organizations using the paper-based system feel that their performance review system is not as effective in boosting employees' morale and company productivity.
So, how can your company benefit from an automated performance review system?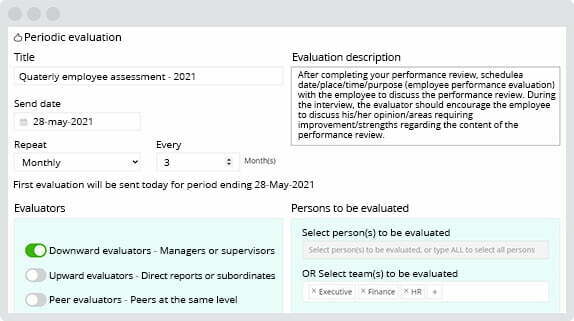 Better process An automated performance review system provides a manager with all the tools required to document performances and conduct routine reviews. With the right tools in hand, it encourages them to better communicate with employees, be more inclined to document performance as it occurs, and provide complete and systematic reviews in a timely manner.
Following the best practice With an automated system, your firm remains updated with all the changes and you have the assurance that you only follow the best practice as stated by the industry. Best practices include alignment of individual goals with the company's goals and validating competencies.

Increased harmony
Having an automated system in place encourages employees to share in the overall accountability for the success of your firm. It helps to bring each team into alignment with one another and give priority to everyone working towards a common goal and moving in a common direction.
Save time and energy One of the most important benefits of an automated system is that it helps save a significant amount of time and energy. This is because all the information and forms are centrally located, all functionality related to the performance review system is also centralized and access can be gained easily by logging into the online system. The entire process becomes seamless and it becomes easier to identify any change or incorporate new updates in the process.
Quality reviews It is often observed that employees are often discontented and confused by the performance appraisal process. There are often delays in delivering timely reviews or the feedback remains irrelevant, incomplete, or improper due to some reasons. However, with an automated system, managers receive tools to document ongoing permanence, support ratings, write comments, and recommend promotions, which helps to increase the quality of performance review dramatically.
Yield better organizational results Ultimately, a more effective performance appraisal process will lead to increased profits and better realization of organizational goals and objectives. It provides a better chance for a firm to implement a highly effective process. As employees are the most valuable assets for any organization, keeping them motivated and giving them timely and rightful reviews helps to improve their morale and ultimately paves the way for the accomplishment of organizational goals.