As the leader of the finance function in your business, you need to effectively manage the performance of your accountants and other book-keeping professionals.
There are 3 important steps that need to be followed to meet your department's objectives.
Establish a set of accounting department-specific KPIs
Assign appropriate KPIs to individual team membership
Track and review performance against this KPIs
Step 1
A typical set of accounting department KPIs might look like this.
Efficiency and Customer Service
Time taken to close the books and complete month-end reporting
Time taken to close the books and complete year-end
Days taken to process invoices
Transaction /payment processing time
Document correction time
Weekly time spent entering data
Time taken to process monthly payroll
Financial reports slippage
Travel expense processing time
Accounts receivable processing times
Customer satisfaction
Quality:
Data input accuracy
Invoicing error rate
Transactions /payments error rate
Factual error rate in reports
External auditors errors reported
Implementation of external audit recommendations
Number of transactions requiring reconciliation
Outstanding payments collection rate
Step 2
Assigning these accountancy KPIs to your team and tracking and reviewing it manually can incur a large management overhead. The only way to sustainably manage a time-pressurized, financial operation is by using a real-time, highly automated and agile appraisal system like AssessTEAM that can fit around the monthly and quarterly accountancy operational cycle.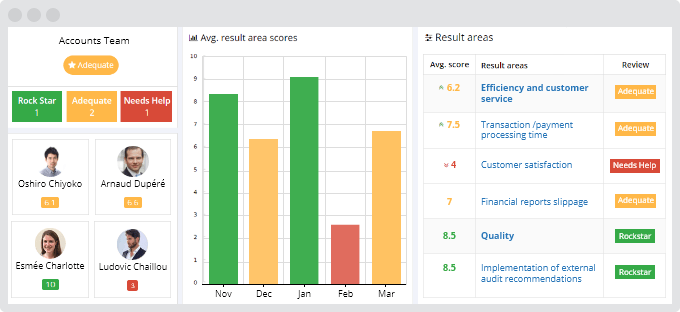 Once properly configured with performance objectives, rating systems, appraisers, appraisees and review periods, employee performance management tools like AssessTEAM enable you to effortlessly engage in proactive real-time appraisals and motivate and steer your team in an agile manner.
Getting started with AssessTEAM is easy. Importing staff into AssessTEAM will take you just a few minutes. Once you have assigned job titles to your freshly imported staff, AssessTEAM can automatically assign goals and performance indicators to your finance team using it's inbuilt library of accounts KPIs, covering accounting roles such as:
Senior Global Account Manager
Accounts Payable Clerk
Accounts Clerk
Accounts Executive
You can add custom goals if preferred. Next, you can assign evaluators to individual accountants, or you can group-assign evaluators to a specific job title, (e.g. account payables) or team (e.g. internal audit), saving a lot of time.
Step 3
You can now setup periodic evaluations, for each accountant, accountant type, or finance function, perhaps every three months to suit your company's quarterly financial reporting process, but the frequency is up to you. You can incorporate 360-degree reviews, downward feedback, self-evaluations and even client feedback, which is increasingly being used by accounting departments to improve the overall quality of their service.
Once configured, AssessTEAM assumes a lot of the administrative load of managing performance management for your team, AssessTEAM also automates notifying and chasing up accountants and evaluators to complete appraisals.
AssessTEAM
enables you to manage your finance function efficiently because the
performance management
data needed for responsive and agile decision-making will be automatically collected for you with minimal management overhead.
Looking for a flexible employee evaluation form? Sign Up for a free trial and see why 10,000+ HR Managers love AssessTEAM!