As part of the '2019 Global Health Care Outlook' report from Deloitte Consulting researchers talked to over 1,350 doctors and nurses across 11 European countries and identified two key HR challenges for healthcare. These were:
A lack of access to, or gaps in, performance monitoring information and availability of real-time data
Training models that are too rigid and lengthy and fail to equip today's workforce with more flexible skills for the emerging digital age.
PWC also reported on the Top Healthcare Issues for 2019 in the US and doubled down on the idea that healthcare workers are lacking vital skills for the digital age. The report identified a need for healthcare workers to up-skill to take advantage of new healthcare technologies, in areas such as AI robotic process automation and analytics.
However, PwC emphasized caution suggesting that "Before rolling out any technology training program, healthcare organizations should develop incentives and performance metrics for employees who align with the digitally fit culture they seek to develop. " 
These digital goals must still be aligned to your healthcare organization's strategic goals and KPIs for health care professionals and managers:
Average Stay In Hospital: Measure the time your patients are staying
Costs of treatment: Establish how much patients are costing
Hospital Readmission Rates: Evaluate and assess how many patients are returning
Patient Waiting Time: Assess waiting times
Bed Or Room Turnover: Shows how fast patients are moving in and out of the facility.
Patient Satisfaction: Review and analyze patient waiting time
Patient Safety: Measure and prevent accidents etc…
Accident and Emergency/ER Waiting times: how long are staff waiting for emergency help
Costs by Payer: what type of healthcare insurance do staff have.
Patient mortality: the percentage of patients that die in a hospital's care before being discharged.
Bed Utilization Rate: number of hospital beds being used at any given time.
Incidents: unintentional consequences or side effects of hospital procedures, such as sepsis, postoperative respiratory failure, pulmonary embolisms, hemorrhages, etc…
Medication Errors: number of times there is an error in prescribing medication
Patient Follow-Up: number of patients who receive follow-up after their visit to the hospital
Childhood Immunizations: number of children who have received immunizations
Staff-To-Patient Ratio: show the use and capacity of staff resources.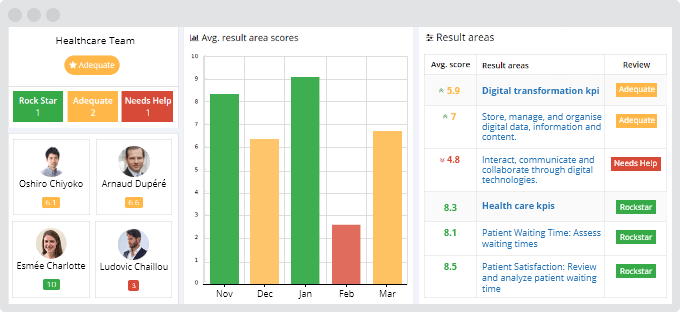 Digital competency goals, whatever they may be, should be advancing performance under the strategic healthcare KPI's above. Here are some typical digital transformation KPIs:
Articulate information needs, to locate and retrieve digital data, information and content.
Store, manage, and organise digital data, information and content.
Interact, communicate and collaborate through digital technologies.
Create and edit digital content
To use data and analytics to improve performance
AssessTEAM offers technology that can help healthcare organizations with this digital skills transformation process. Our highly automated and agile performance management system allows you to assign this strategic healthcare and digital competency KPIS to large numbers of staff and monitor performance against hundreds of goals on a regular basis with little manual effort.
AssessTEAM is customizable, allowing you to set up periodic evaluations at your desired frequency, e.g. weekly, monthly, etc. You can incorporate 360-degree reviews, downward feedback, self-evaluations, and even patient feedback. AssessTEAM automatically notifies and chases raters and evaluators to complete appraisals, saving you time and effort.
AssessTEAM enables you to effectively manage your healthcare function along with the digitization process because the decision-critical performance management data will be automatically collected for you with minimal overhead management.
Looking for a flexible employee evaluation form? Sign Up for a free trial and see why 10,000+ HR Managers love AssessTEAM!