Most employers opt to hire new employees on a probation period, typically lasting 3 to 6 months after the new hire's start date.
During this probation period, the new hire is required to prove beyond doubt that they are competent in the role that they were hired. If they meet performance expectations during this probation period, they are hired; if not, they face dismissal.
It is the last stage of the hiring process and the way that companies can ensure that only the best talent makes it into the organization.
However, probationary periods are often not used correctly. Busy managers get to the end of the probationary period, often having failed to set goals. This means that they don't really have a genuine case to pass or fail the new hire, but being time-pressurized, they are often blindly compelled to hire potentially unsuitable employees.
Goal setting is simple and shouldn't take more than an hour out of the busy manager's day. Since employees can typically take up to 3 to 6 months to speed up, it also makes sense to set learning or intermediate goals, rather than out-right performance goals. 
Another option is to structure these goals in the form of a monthly ladder where the new employee is required to meet increasingly challenging goals as the probation time passes. 
There is no room for vagueness; learning goals, like any other goals, should be specific and should be about being able to demonstrate increasing levels of competence in specific areas of the job.
For example, a good learning goal for an accounting clerk could be to understand and accurately input administrative-accounting data into the accounting system without supervision. 
During this three to six-month probation period, learning goals should be set and recorded in an appraisal system that can prompt managers to not only record goals but also conduct interim and final reviews. This will streamline the probationary process and will help to ensure that it effectively performs its function as gatekeeper into the organization.
This performance appraisal process is most effective when you have the right employee performance management system at hand. AssessTEAM is what you need to ensure reliable and comprehensive employee evaluations — whether assessing permanent or probationary-status employees hoping to retain employment in your organization. 
Benefits of Probationary Employee Appraisals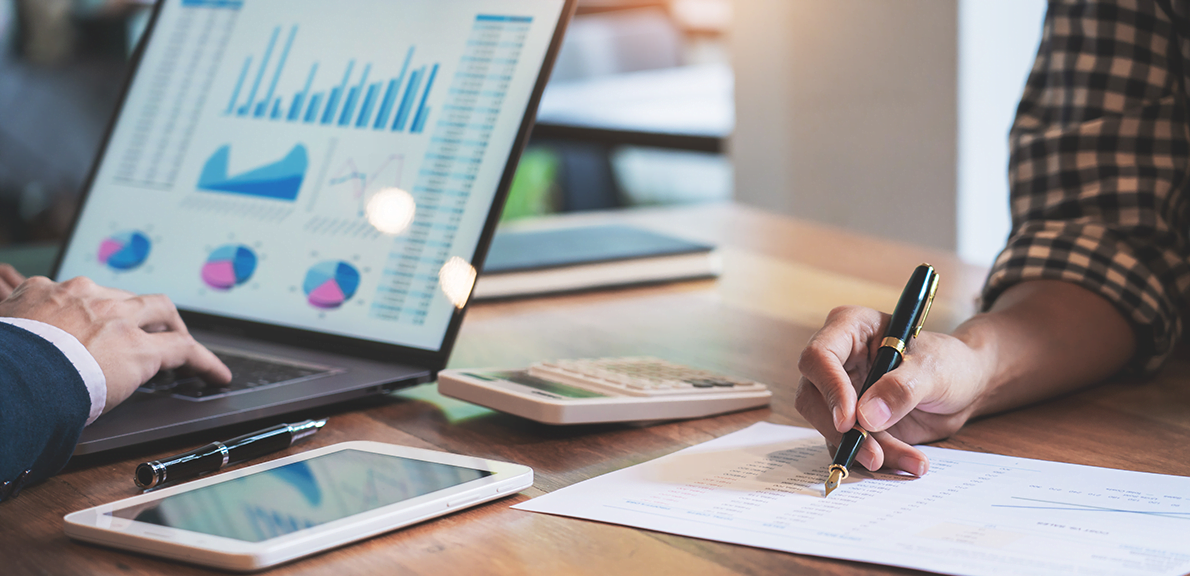 When deciding to hire an employee for good, probationary performance reviews for new hires or transfer employees are crucial. Traditionally, organizations conduct an employee performance appraisal at the end of a new hire's probationary period and use this evaluation as a basis for their administrative decision. But these days, many companies incorporate appraisals as part of their overall talent management practice. They view the performance appraisal process as an essential (and continuous) step in employee on-boarding so they can take full advantage of its benefits.
The benefits of performance reviews for probationary employees are threefold:
Clarity for employees – New employees are put under probationary status to give them ample time to adjust to their role within the company as well as to adjust to the company's culture. Ideally, managers should allow new hires to execute and prove themselves efficient with short term goals, set right at the beginning of their on-boarding. This way, managers have something concrete to base their performance review on. Timely performance evaluation enables new hires to gain early performance feedback on their progress. New hire appraisals serve as performance checkpoints that help new employees keep track of their progress and improve upon their learning. Early feedback gives them the chance to make the right changes in time for their probationary status review. Performance evaluations also benefit employees by opening up a forum where they can freely ask questions and raise concerns regarding their expectations, requests, and other issues that may have surface throughout their employment.
Simplicity for managers – Performance appraisals are not just about ensuring that current employees perform according to their predetermined job expectations. In order for employee performance appraisals to be effective, the process must start at the beginning of the new hire's probation period and must continue throughout the employee's career and journey with the company. It includes employing the right people, setting the right expectations, coaching employees to deliver efficient, high-quality service, and dealing with under-performance proportionately and appropriately.Managers and administrators benefit from performance reviews and timely employee assessments by enabling them to gauge candidates' future performance and build stronger employee and manager relationships. Through employee performance evaluations and appraisals, managers get to clarify and refocus goals and expectations while observing and analyzing the progress of new employees; therefore, giving them the ability to project the employee's future performance. By delivering feedback and opening up a line of communication between managers and employees, business leaders also get to establish a stronger and more trusting manager and employee relationships.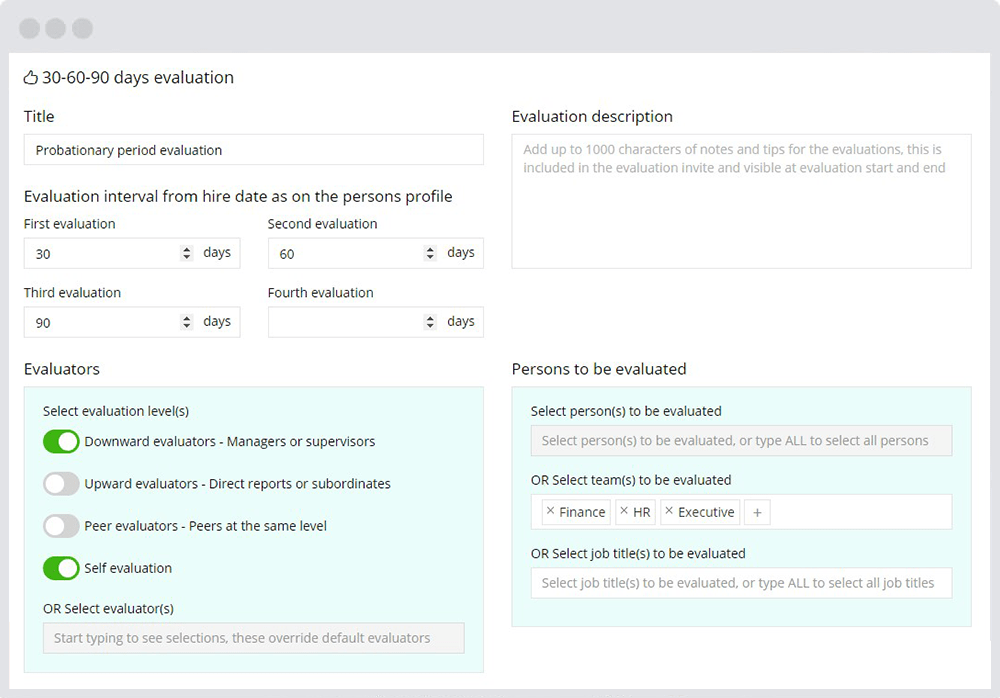 An effective recruiting and the on-boarding process should result in enhanced performance and productivity for the entire organization. With the help of proper employee performance appraisal methods, organizations can efficiently gauge employee competency, allowing them to determine how well candidates can execute and satisfy short-term objectives. This leads to better hiring decisions and a highly effective selection process.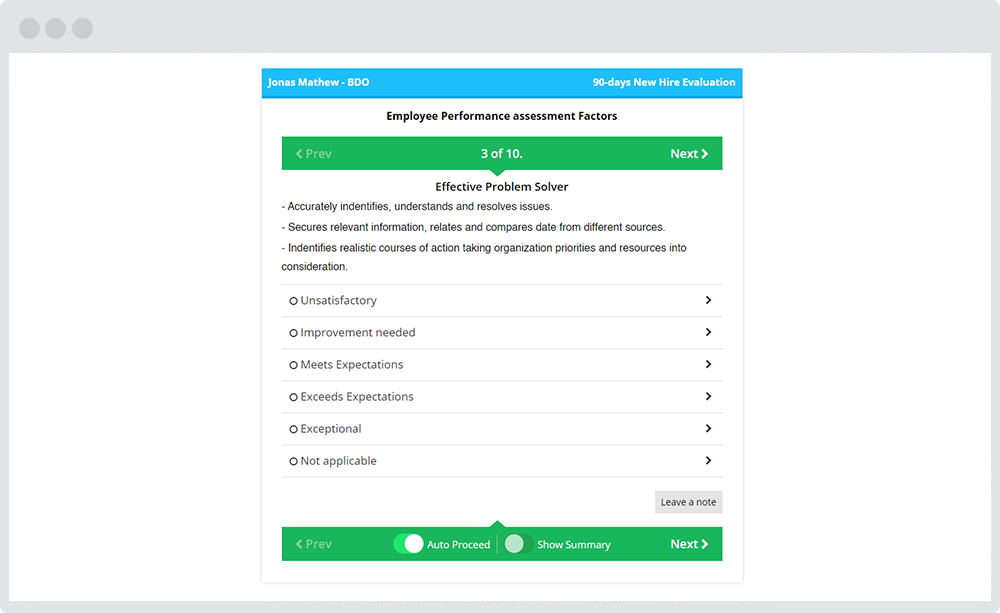 The performance appraisal process contributes a great deal to organizational outcomes, especially in terms of employee performance and engagement, employee training and development, and the ability to make more informed hiring decisions. AssessTEAM, 30-60-90 day evaluations, can help you ensure new hires are evaluated on time and on the right parameters. We enable organizations to set up their probationary period evaluations based on specific objectives to be attained by the employee in this period. The evaluation schedule can be customized and set to repeat at particular intervals. An always-on template will ensure that the new hire evaluations get generated and shared with the line managers whenever an employee is due for review.