Humans are goal-oriented creatures. We set daily goals without realizing that our decisions are driven by these, consciously or unconsciously, conceived objectives. Whether or not a day planner that outlines an hourly to-do list is utilized, our personal goal setting is apparent in the way we budget time to meet our aspirations. We set goals for health and fitness, our creative pursuits, and perhaps even our finances. At work, we find fulfillment in completing tasks that are expected of us to accomplish.
In professional environments, goal setting goes beyond our personal space and individual desires. It becomes a collaborative process that takes careful planning and thought, not only on the part of the staff but also the manager and the entire organization.
How does the business make sure that each team member will accomplish all the right things on a Monday? How does a manager make sure that individual performances are sustained all week long? How do administrators help business units retain their focus and maintain meaningful progress throughout a project period; so, that the entire organization will have spent energy and resources on the most important things by the end of the project? These are some of the critical questions that must be asked and answered. The good news is that management can manage these potentially destructive issues through proper goal setting and performance management strategies.
Performance Management and Goal Setting are Directly Correlated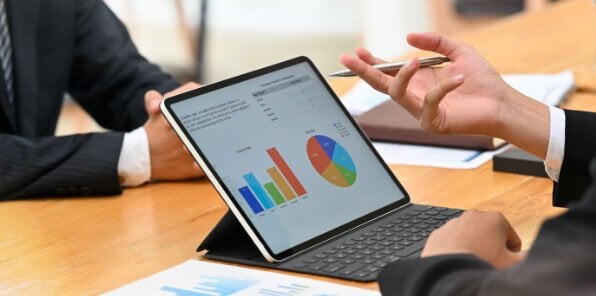 Good performance management is rooted in proper team goal setting based on an appropriate evaluation of each employee's performance and the team as a whole. With the right employee evaluation tool, it is easier to perform a fair evaluation comparison and determine action points that must be taken to achieve individual and team goals.
Proper team goal setting affords team managers with the opportunity to precisely clarify both team and individual expectations for the project under discussion. Management can also compare the performance of individual team members based on individual and team goals. When team members are asked about their ideas on certain aspects of team projects, management can maximize their skills and potential as well as empower them to be more engaged as employees.
Effective teamwork stems from the drive to pursue meaningful goals as a unit. When management can develop a team that shows this kind of solidarity, both the department and business are more likely to succeed in the pursuit of its primary goals and aims. Therefore, the best way to ensure an effective goal setting is to ensure specificity and clarity when creating objectives. Unclear goals almost always result in unclear plans of action. When team goals lack clarity, they can also be a source of challenge and demotivation, which can lead to an utter lack of vision, an unclear sense of purpose, and even identity as a team. This will negatively affect a team manager's chances of successfully completing projects, as well as stunting team productivity and unity. As a result, it is crucial to be clear about team objectives and align those objectives with the organization's needs.
The Anatomy of Achievable Team Goals
Healthy, responsible team management promotes SMART goals: goals that are Specific, Measurable, Achievable, Relevant, and Time-bound. As described above, team goals must be specific to each team, as well as remaining relevant to the entire organization. Goals should be measurable and achievable within a reasonable time. Experts believe that teams should set SMARTER goals that are not only clear and achievable, but they are also evaluable and reviewable.
To this end, performance management tools like AssessTEAM are an essential part of the management of team key performance efficiencies to achieve the business goals and aims.
AssessTEAM supports making
team goal setting
simpler for managers. Once the managers determine team goals, it would apply to all their team members, making it easy for team members to understand and work in collaboration to achieve these goals. Also, if any new team member is added to the team, the new member will directly inherit the team goals, giving them instant clarity about their roles and responsibilities.
Team managers can log in to their AssessTEAM portals, navigate to the Teams section, and assign common objectives along with their due dates to all the team members. The goal-based evaluations can be triggered right from the same screen by selecting appropriate evaluators, repeat frequency, and the first send date of evaluations. Team reports help managers to track the progress on these goals and identify key strengths and areas of development within their team.
AssessTEAM is your partner in performance management and effective employee evaluations. The company offers the best employee evaluation solution in the market. It provides teams and managers with the means to keep KPI evaluation processes as simple and straightforward, yet efficient as possible.
Tools like 360-Degree Feedback are a vital part of the overall employee performance review process. 360-Degree Feedback is a qualitative or descriptive process that is an effective employee feedback tool as it asks for feedback from all sides of the employee: upwards from subordinates, downwards from managers, sideways from peers and customers. Consequently, management gains a holistic view of the employee's performance.
As an aside, there is an important difference between quantitative and qualitative review feedback. Qualitative feedback is descriptive. It describes a behavior or set of behaviors in words. Quantitative feedback, on the other hand, is numbers based. Employees are awarded a specific numerical score based on how well they have performed in a specific role.
In conclusion, AssessTEAM believes that employees are among a company's best assets. The happier and more fulfilled they are in doing their roles within the organization, the more productive and dedicated they become to the business.