Are you new to employee performance review management? Or are you a Human Resources Management administrator with an existing performance management system looking for a new and innovative way to manage employees?
The employee performance management process is a strategy to help improve employee performance both at an individual and organizational level. It assists managers with goal setting as well as the implementation and achievement of these goals. In other words, employee performance management is all about achieving desired results by assessing employee performance through an agreed-upon framework of clearly defined goals, objectives, and competencies.  
Most small businesses either use a paper-based system or a spreadsheet that gets populated by HR department staff, sitting in on the review meetings. This has worked for decades, but things are changing with new technologies becoming available and affordable for HR departments across the world.
Efficient performance management relies on effective communication between management and employees. Without a proper and open line of communication, the entire process becomes ineffective and acts as a hindrance instead of a clear path to progress. Regular and frequent feedback sessions between managers and employees are crucial to meaningful performance assessments, as this creates a healthy two-way communication stream that helps improve work efficiencies and enhances productivity. Additionally, cloud-based technologies facilitate this by delivering clear job expectations and easier feedback tools on the web and mobile apps.
Modern performance management requirements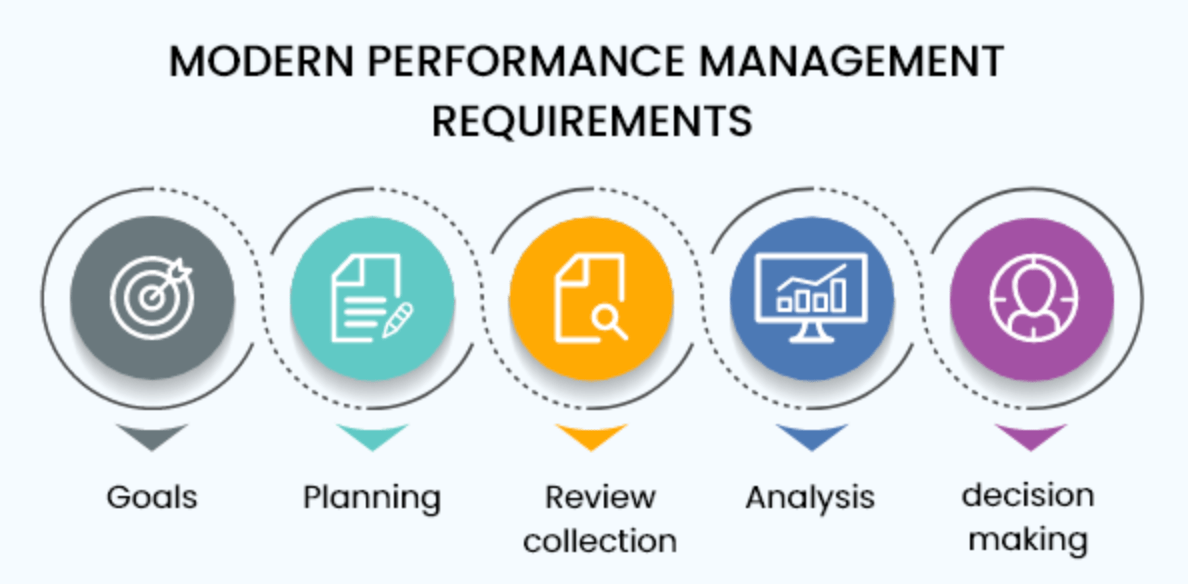 It is an undisputed fact that the modern business organization needs to modify its performance management policies and best practices to ensure that it retains existing talent and guarantees company profitability. Losing talented employees is a major cost for the organization. Therefore, it is essential to put measures into place to retain loyal employees and help them reach their full potential both personally and within the business organizational unit. One of the unique ways to manage staff is to base key performance indicators at different levels: at an individual level, at a project level, and at an organizational level.
The primary aim of this guide is to assure the education and development of both the employee and manager with respect to the modern organization's performance management review process. 
It is critical for both management and staff to understand and contribute single-mindedly to the goal of company profitability using the tools and methodologies discussed in this guide. 
Now that the parameters for this content have been set, let's take an in-depth look at the salient points of what the modern performance management requirements are: 

Goals and goal setting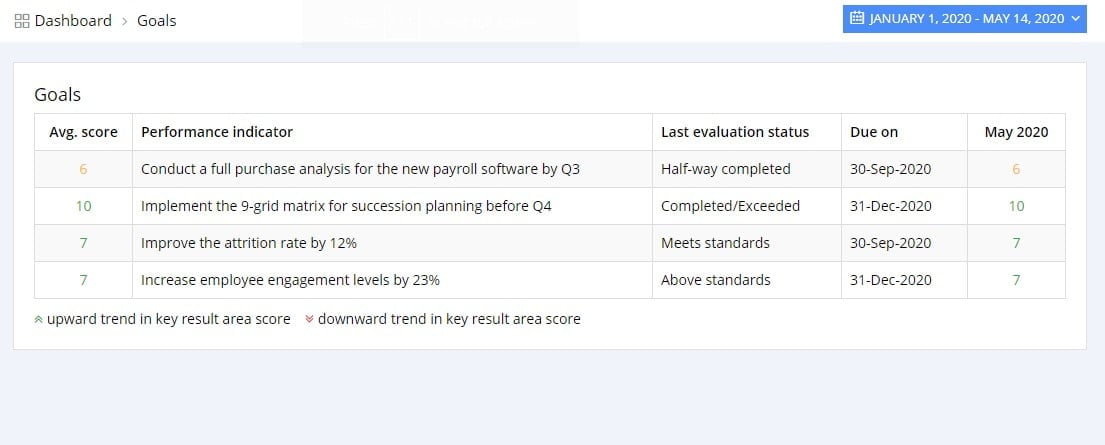 Latham and Locke (2002) define goals as "the object or aim of an action, for example, to attain a specific standard of proficiency, usually within a specified time limit." In other words, goals are the competency levels that employees need to achieve to fulfill their job roles and function at the highest level. Goals are also a useful mechanism that allows management to assess employee-performance. Hence, the need for goal setting, implementation, and management to track and manage goals in relation to personal development. 
Goal setting, as defined by AssessTEAM, is the process of defining goals on an employee level, team level, and company-wide level.
The process of creating new goals, setting due dates, and measuring the extent to which these goals have been achieved is a streamlined process in the AssessTEAM system. In summary, team leaders and managers can log onto AssessTEAM, navigate to the person tab, and click on the goal-setting icon linked to the employee they wish to create new goals for.
New goals can be added by clicking on the <Add a new performance indicator button>, or they can be selected from an extensive list of existing KPIs. Evaluators, the send date, and evaluation frequency must also be added. Finally, the <Save> button must be clicked to save the new goal or performance indicator.
Planning
Job expectation clarity partnered with a discussion about organizational vision and core values is an essential part of the performance review process. At AssessTEAM, job expectations and job clarity birth the KPI development process, both qualitative and quantitative key performance indicators.  In other words, meaningful KPIs cannot, and will not, be created if job clarity is missing from the process.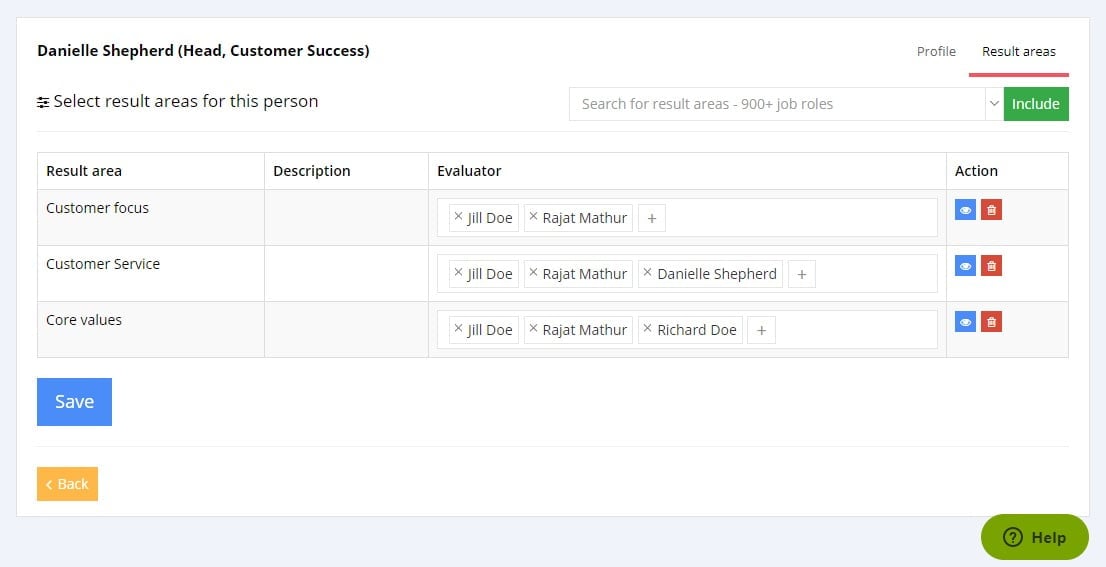 Consequently, all staff must understand both their individual job expectations and how these fit into the greater company vision and core values. Employees must likewise understand the individual value of qualitative and quantitative KPIs as they play a unique role to work together and independently of each other to provide a holistic picture of employee performance. Determining employee strengths and weaknesses in the context of business goals and efficiencies are critical to the growth and development of the business organizational unit. 
Consequently, management must do everything in their power to facilitate employee engagement in, and understanding of their job expectations within the performance review context. Management openness to the discussion around the implementation of the key performance indicators and outcomes will go a long way towards determining performance management success. As a result, round-table discussions should be held regularly to make sure that all employees understand what is expected of them both individually and corporately. 

Review collection
The AssessTEAM employee review process is as follows:
After the key performance result areas have been formalized on AssessTEAM, the next step is to schedule feedback reviews weekly, monthly, quarterly, or annually.

 Performance review system

automated reminders to ensure that all staff schedule time to complete these feedback reviews on time, can be set up at the same time as the scheduling of these feedback reviews. 

Once the deadline dates have passed, management must collect and collate these reviews to interpret the results at an individual, team, and organizational level.
Because AssessTEAM is web-based, it is a simple matter for employees to fill out their review forms via any device; notwithstanding, desktop, laptop, or mobile. Under certain circumstances, as a result of the amount of information found on web pages, it can be extremely challenging to navigate through these web pages on a mobile device. And, completing performance reviews under these conditions can be a nightmare, to say the least. However, the good news is that the AssessTEAM business model has prioritized the simplification of the web pages viewed on a mobile device screen; thereby, making it easy to complete the performance review evaluations timeously from anywhere and at any time. 
Analysis and decision-making
Apart from the usual benefits to staff in the form of bonus percentages calculated based on the achievement of the key performance outcomes, another critical advantage to the collection of employee reviews is that these reviews are a gold mine for any human resource professional.
In other words, the employee review process is an exact mirror of the organization. These reflections will allow the organization to look inwards to determine which procedures and methodologies are successful, and which ones need revision.
The AssessTEAM dashboard provides a comprehensive overview of all the result area reports, ordered by elements such as result areas gaining, waiting and canceled evaluations, rockstar employees, poor performers, employees without result areas, and persons without job titles. 
Team managers need access to this information to determine which employees deserve promotions and which employees need additional training or even urgent intervention mechanisms to turn around negative performance trends. 
Additionally, statistical graphs showing the number of evaluations sent, completed, and canceled as well as average company-wide result area scores are easily accessible and viewed from the dashboard.  This statistical analysis, including data over time, is a valuable tool in the management's decision-making toolbox. The modern business cannot expect to be effective without this information.
Finally, specific employee review results are available in an easy-interpret form for individual employees to review, including elements such as average result area scores, average performance indicator baseline, and a summary of successes and opportunities. The primary aim of this information is to add value to the inclusive nature and partnership between management and employees. 
Final Thoughts 
What organizations need today is an effective performance management system that can help overcome the many challenges of the modern workplace. When you have strategic business objectives to meet, you should have a performance appraisal and management system that aligns with your organization's strategic objectives. 
The employee goals to business objectives bridge communication gaps between managers and employees and allow leaders to channel their organizational skills toward a better employee selection and management process in tune with the company's policies and goals. 
An efficient appraisal system should likewise help managers identify challenges and obstacles to productivity and performance so they can develop ways to overcome them through mutual support with their subordinates. This will enable your organization to implement better programs for your employees.
If you are looking for a robust performance management system for your organization, AssessTEAM offers a complete set of features and tools that will help you navigate the entire performance management process and ensure successful evaluations that impact the productivity and quality of work employees.